Posted on
Mon, Jul 18, 2011 : 4:58 p.m.
What's next for downtown Ann Arbor Borders store after chain closes?
By Paula Gardner
The liquidation of Borders leaves real estate questions in the wake of the failing book store chain across the U.S., but as the hometown retailer turns its final page, it's the flagship store downtown that's attracting attention in Ann Arbor.
The chain was founded on South State Street and grew into its international brand downtown. Then, as an anchor retailer on East Liberty, it filled a former department store as the chain grew.
That an anchor position downtown — a 37,000-square-foot storefront — is poised to go dark leaves nothing but questions for the city that's counted on Borders to draw shoppers to the corridor for many years.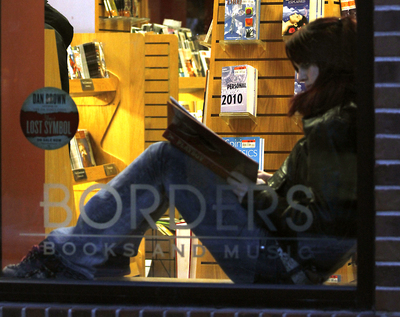 AnnArbor.com files
The property —
612 E. Liberty,
with frontage on East Liberty and Maynard streets — has been listed for lease in recent days, according to real estate sources.
That move indicates that the store is not among the 30 stores that may be sold to an unnamed buyer instead of liquidated.
The listing with Michael Lippitt and Bruce Simon of Landmark Commercial Services in Metro Detroit calls the property "a landmark location."
"This opportunity is unprecedented, representing the largest available footprint of any retail building in the corridor," according to the listing.
The newer listing by Landmark is catching many real estate insiders by surprise, raising questions about what Borders had been planning for the location even before proceeding with the company-wide liquidation that it announced Monday.
The downtown store — it's about triple the size of nearby Urban Outfitters — comes onto the market at a time when retail tenants have downsized their footprints nationally and even locally, such as at Briarwood Mall, which recently consolidated Gap and BabyGap stores.
"In this retail market it's going to be nearly impossible to fill with one large user, so it'll have to be split up," said Chris Grant, vice president of First Martin Corp., which owns an office building across Maynard from the Borders store.
"There aren't many 37,000-square-foot users, period," said Grant.
Still, the loss of the store raises questions about its position as a downtown anchor after years of struggles for the retailer to survive amid a changing book industry.
"I don't think it'll have that much of an effect," Grant said. "I don't think there was much cross-shopping with other stores."
The total property combines multiple ownership entities, including a family trust and Agree Realty Corp., which has controlled the property after a complex series of leases and land leases, according to real estate experts.
The size of the property, when combined with the adjacent office space, creates a unique redevelopment opportunity for downtown Ann Ann Arbor, said Grant.
Jeff Harshe, vice president at MAV Development in Ann Arbor, agreed.
That's the opportunity for Ann Arbor, he said, "in terms of what's next for it, how it's configured and how it's best maximized."
The building formerly housed Jacobson's department store, noted Jim Chaconas of Colliers International. The transition for that store to Briarwood Mall in the early 1990s "was the kiss of death for that whole area," Chaconas said.
This time, the building's transition leaves a diverse retail tenant base around it, one with at least two additional anchor stores - Urban Outfitters and American Apparel - and one of the most sought-after retail corridors in Michigan.
Chaconas said that situation means the loss of Borders will have less impact on downtown than the one in 1991.
"I think we have lot more draws there now than we've ever had," Chaconas said.
Chaconas agreed that the site has an attraction for retailers, but echoed that the size of the building will be a concern.
Most of the new retailers and restaurants seeking to open in the area, which in part is so active due to its proximity to the University of Michigan campus, only want up to 2,500-square-feet of space, Chaconas said.
As the city considers what's next for the downtown Borders store, its location amid downtown parking structures could help give it leverage when prospective tenants look at the space.
Mayor John Hieftje said he's hopeful a new 700-space public parking structure downtown — expected to open next spring two blocks away from the downtown Borders store — will help with the attraction of a new tenant to fill the space Borders is expected to vacate.
He said some of the current daily users of the Maynard parking structure next to Borders even could be moved to the new parking structure to make more spaces available directly next to the store.