Posted on
Sat, Jun 29, 2013 : 5:58 a.m.
Wheels in Motion expands store with focus on engaging cycling community
By Chelsea Hoedl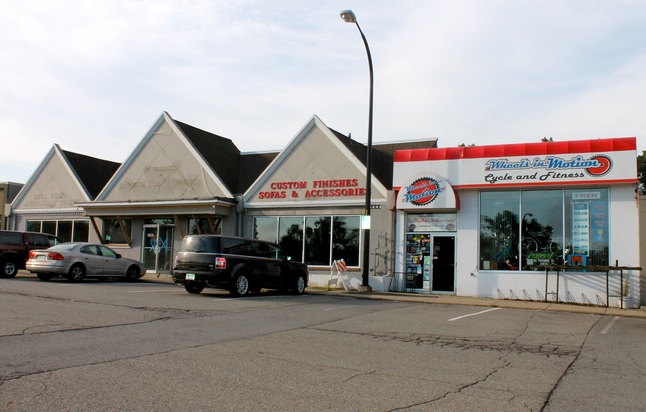 Chelsea Hoedl I AnnArbor.com
Wheels in Motion is nearing completion of a major expansion project on Washtenaw Avenue that will make it the largest bike shop in Ann Arbor.
The bike store has been family owned and operated since 1933, and originally was located on Ann Arbor's Depot Street and known as Campus Bike & Toy. The shop moved to its home at 3400 Washtenaw Ave., in 1988 as part of its first expansion project. Now, the store continues to grow by taking over the building next door.
The shop's new space previously was owned by Naked Furniture, a store specializing in real wood furniture that moved into the former Blinds to Go building at 3570 Washtenaw Ave., in January 2013.
Owner DeWight Plotner was born into the Wheels in Motion family, and now works in the store alongside his son, Travis Plotner, and his daughter, Chelsie Plotner.
"We've been planning to expand for a few years," DeWight said. "We were just waiting for the right time to do it. We felt that now was the proper time financially and our business has been growing steadily."
Wheels in Motion bought the neighboring 9,740-square-foot space for $855,000 in late August 2012 — more than quadrupling the size of their previous 2,500-square-foot shop.
After purchasing the vacated space, Wheels in Motion began construction in late March and DeWight said he expects the new portion of the store to be completed by July 15. Work is being done both to the interior and exterior of the building before it will be open to customers.
"We haven't been able to do a lot of the things we wanted to do in our store because of size limits," DeWight said. "This gives us the opportunity to have more of the products we carry actually visible in our showroom and offer space for the cycling public to use."
The new space will feature a conference room open for the cyclists in the area to hold meetings. It also will have room for spinning classes in the winter, Plotner said.
The new conference room will provide Wheels in Motion opportunities to expand the already significant role it plays in the local cycling community. The shop already sponsor events such as the Worst Day of the Year Ride and the Fun Promotions Fat Bike Race at Rolling Hills Park. They also provide support for events like Eco Ride by offering tune-ups and on-site bike checks.
DeWight said despite community engagement, the store is first and foremost a bicycle shop, operating a showroom where customers can browse through a variety of models and customization options. Tune-ups and free adjustments also are available.
While construction is underway, the original store will remain open regular hours, which are 10 a.m. to 7 p.m. on Monday through Friday, 10 a.m. to 6 p.m. on Saturday and 12 p.m. to 6 p.m. Sunday.
Chelsea Hoedl is an intern reporter for AnnArbor.com. She can be reached at choedl@mlive.com.