Posted on
Mon, Dec 19, 2011 : 5:58 a.m.
Thai, sushi restaurant and dental office moving into former Stoney Creek Coney Island restaurant
By Tom Perkins
Ypsilanti Township's Stoney Creek Coney Island has closed, but two new businesses are ready to occupy the Whittaker Road restaurant's former space.
The 2,000-square-foot unit will be split and occupied on one side by a Thai and sushi restaurant, while the neighboring Whittaker Road Dental office will expand to occupy the other half.
Ypsilanti Township staff recently issued a building permit to Whittaker Road Dental for a construction project estimated at $220,000, though the company is still seeking bids.
Kris Keller is the practice administrator for Effingham, IL-based Heartland Dental Care, the company that owns Whittaker Road Dental. She said Heartland owns more than 300 dentist's offices and the number continues growing nearly daily.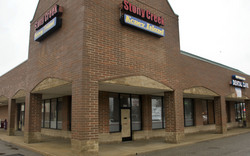 Tom Perkins | For AnnArbor.com
Heartland's and Whittaker Road Dental's success can be attributed to several factors, Keller said. She called the office a "one-stop shop" for general dentistry, cosmetic procedures and specialty services. They also provide different types of sedation, which attracts people with anxiety over dental procedures.
"We have been able to add personnel who are extensively trained in those areas," Keller said.
Among other services are laser whitening, wisdom tooth extraction, Invisalign "clear braces," traditional cleaning, oral cancer screenings and dental implants.
Whittaker Road Dental, which has been open since 2004, also offers three types of sedation, including traditional nitrous gas, oral pills or intravenously. The last option is reserved for those with severe anxiety, and it induces a light sleep so patients aren't aware of their procedure or remember it when it's complete.
The wide range of services Whittaker Road Dental offers has meant a jump in demand, Keller said. While the office currently serves more than 500 customers monthly, she expects that number to at least double with the completion of the new addition targeted for March.
"We've been successful because we have doctors who believe in taking care of the patient today and getting them in and out without any pain," she said. "They're a very caring group and give patients the best lifetime care."