Posted on
Wed, Jan 27, 2010 : 4 a.m.
Why Apple's tablet could boost Ann Arbor region's software industry
By Nathan Bomey
Software developers in the Ann Arbor region believe that Apple's long-rumored digital tablet announcement today could generate more opportunities to create and sell mobile applications.
Despite a firestorm of rumors about Apple's announcement, most reports point to a 10-inch device that hastens electronic book reading, allows Internet browsing and introduces a new way to access newspapers, magazines and possibly even TV.

Many Ann Arbor software developers are energized by the opportunities that Apple's tablet could present.
"I think absolutely everyone who's an iPhone developer will also be a tablet developer," said Ben Kazez, CEO of Ann Arbor-based Mobiata, which reaped more than $1 million in app sales through Apple in 2009. "It does feel like a similar climate to me with the launch of the iPhone."
Apple's decision in 2007 to allow private programmers to sell mobile applications for the iPhone through the iTunes store set off a furious rush among programmers to develop smart phone apps. Developers get 70 percent of the revenue, and Apple keeps 30 percent.

Experts and industry observers agree that Apple is likely poised to allow private developers to sell applications for the tablet device just like it did for the iPhone.
The Ann Arbor region, meanwhile, is steadily building a base of mobile software companies, including application developers like Mobiata and Mobatech.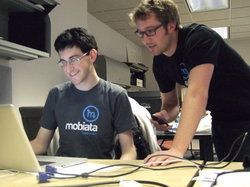 Nathan Bomey | AnnArbor.com
Both companies, which each have five employees, plan to hire workers to expand their product offerings to target the growing application market, which is likely to get even bigger with the tablet announcement. Apple has sold more than 2 billion apps since the iPhone launched.

Mobile app developers are eagerly waiting to assess how Apple's announcement today could influence their business strategy.
"We're looking at how can we develop a new solution to maximize the opportunity this new platform will have to offer," said Greg Schwartz, president of Mobatech, which develops mobile banking applications.
The assumption that Apple will allow private developers to create and sell applications through the iTunes Store is particularly significant because of the scale of the iPhone's success. If Apple also confirms rumors that it will allow Verizon Wireless users to use the iPhone, app developers could get millions of new customers.

Apple has sold more than 50 million iPhones and iPod Touch devices worldwide - which means 50 million potential customers for firms like Mobiata.

Karl Rosaen, a University of Michigan graduate who recently returned to Ann Arbor after helping Google develop its Android operating system, said mobile applications can provide revenue to developers.
"For the time being, people are willing to pay to download an application. If they can replicate that with the tablet, that could definitely continue that trend," Rosaen said.
The tablet, however, is set to double or triple the screen space of an iPhone - which could influence the popularity of existing iPhone apps. It could also present new opportunities for more complex applications, which would crowd out less sophisticated developers.
"It could definitely change the game, opening the pathways for new developers to enter," said said Jason Bornhorst, who joined Mobiata last fall after helping to start Ann Arbor-based mobile startup Mobil33t.
The impact of Apple's tablet on mobile Web site development, however, is less clear.
David Fry, founder of Ann Arbor-based Web design and marketing firm Fry Inc., said he suspects that the tablet will allow users to browse Web sites much like they browse the Internet on laptop computers.
"The use of it for e-commerce or e-shopping is probably similar to sitting on your couch with your laptop," Fry said. "It remains to be seen how much this tablet weighs and how people use it in their lives."
Bornhorst added: "I don't think a lot of people realize the hole that the tablet will fill. But I think that will come and I think there will be a big shift."
Contact AnnArbor.com's Nathan Bomey at (734) 623-2587 or nathanbomey@annarbor.com. You can also follow him on Twitter.