Posted on
Mon, Sep 13, 2010 : 6 a.m.
Wiard's Orchards combines family fun with haunted house as seasonal business strategy
By Laura Blodgett
School buses are everywhere and there is a crispness in the air - no doubt about it, the Halloween season is officially here and with it comes Wiard's Orchard opening this weekend in Ypsilanti Township.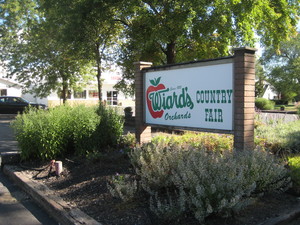 photos by Laura Blodgett
The 100-acre Wiard's site offers everything anyone could ever want for fall fun--apple and pumpkin picking, a country store, bakery, cider mill, corn maze, fire engine ride, mini golf, hayrides, giant slide, straw mountain, petting farm, pedal tractor races, moonwalk, bungee run and more.
If that wasn't enough, Wiard's also runs a separate nighttime operation called Night Terrors, Michigan's Premier Haunted Thrill Park featuring six haunted attractions with names like The Asylum, Hayrides of the Lost and Alien Caged Clowns.
"We do both businesses because they are different entertainment venue styles that go with different kinds of people," said Rose Timbers, special events coordinator at Wiard's, who has been with the operation for 22 years.
"The Country Fair is great family fun as well as being great for seniors or couples—you can come out and pick the perfect pumpkin, take a wagon ride, have a donut. We try to offer the best agri-entertainment experience you could have."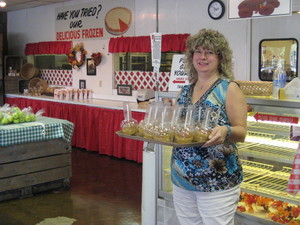 But when the Country Fair closes at 6 p.m., a completely separate staff comes on to bring up the Night Terrors operation.
"It is a completely separate business hosted here at the Orchard. We always say we land one airplane at 6 and another one lifts off at 7:30."
Timbers says both businesses are equally profitable.
Although Wiard's employs only five staff members year-round, it re-hires 300 seasonal part-time workers each year—150 to man the Country Fair as well as another 150 for the Night Terrors side, including 115 monsters.
"The management for Night Terrors has been with us for years, and we have a very high rate of employees who come back year after year," said Timbers.
"Many of them call and e-mail us all year with ideas for Night Terrors for the next year. We couldn't do this without those employees who come back every year to bring this up from scratch, and we highly value them and their ideas."
Timbers adds that if an idea doesn't work, they make sure the person who came up with the idea understands why, so as not to inhibit creativity.
The haunted house market here is one of the most competitive markets in the U.S., says Timbers.
"There are more haunted houses per square mile in Michigan than most other states." In addition to being in a heavy market, Night Terrors has many repeat customers from year to year and needs to be refreshed each year.
"We are constantly adding things to Night Terrors and coming up with new and different scares," says Timbers. "We do have new haunts this year but my guys would have my head if I told the secrets. The element of surprise is huge in our business."
How scary is Night Terrors?
Let's just say Timbers won't go into Night Terrors anymore. "I am very much a Country Fair person—it's too scary for me. I always have to appear in control, because that is the nature of my job. If mama's scared, the whole farm is scared."
Timbers stresses that none of this happens overnight: The seasonal business takes year-round planning.
"We have to have a well enough oiled machine that when we come off the ground we are working on all cylinders, and it looks to customers that we have been here all year," she said.
Like many seasonal businesses, Timbers says they have a six-week period in which to generate revenue for the entire year.
Last year, customer numbers were tracking well until the rain hit in October.
"Rain hurts us. We can plan all year and be as ready as can be but if rains, they don't come," says Timbers.
Right now things are looking good for Wiard's. "The apple and pumpkin crops look really good this year. The animals are healthy, the staff is ready. Everything is in place. Our projection is that looks like a good year, as long as the weather holds."
In its 26th year of business, Wiard's Country Fair opens Sat., Sept 18. Dates of operation for Night Terrors is Sept.25, October 1, 2, 8, 9, 10, 15, 16, 17, 22, 23, 24, 28, 29, 30, 31. Check Wiard's Web site for hours at www.wiards.com and www.hauntedhousemichigan.com as the schedule may change.
Laura Blodgett is a freelance writer and a frequent contributor to Ann Arbor Business Review.