Posted on
Fri, May 3, 2013 : 2:59 p.m.
Humane Society of Huron Valley joins bevy of companies offering wildlife removal service
By Ben Freed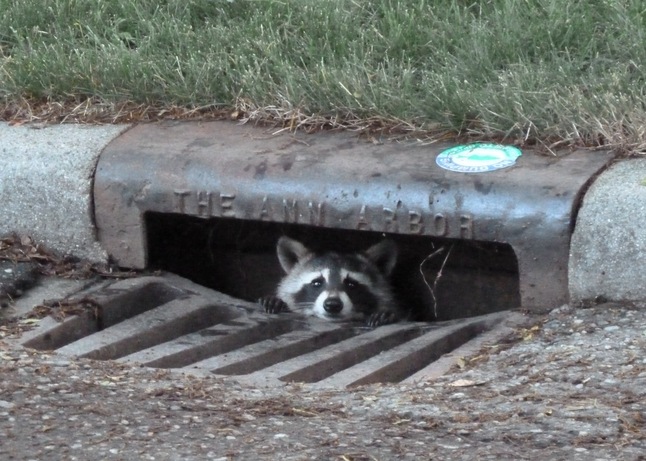 Courtesy Florence Pache
As the weather finally warms, critters are coming out of hibernation and finding their way into nooks and crannies in homes across
Washtenaw County
.
The Humane Society of Huron Valley has always responded to requests to assist sick and injured animals, but the organization recently announced a new service that offers to humanely remove any animal causing a nuisance.
"We've always been the place that people have called when there might be sick or injured wildlife been involved, and we've been taking a lot of calls from community members who were concerned about making sure any wildlife removal was done humanely," HSHV spokeswoman Deb Kern said.
"Our team is already trained in wildlife removal so this was really just the next step for us."
While the HSHV helps injured or sick animals for free, residents calling on the society for basic animal removal will be charged a fee for the services. Kern said proceeds from the fee, which starts at $75, will be fed back to the organization to help animals in the community.
The humane society is joinning about 10 companies that offer wildlife removal in the Ann Arbor area. The other companies all advertise that their processes are humane as well and they can provide some services that go beyond what the Humane Society is offering.
"We don't just go in and take the animals out," Kay Ellis, owner of Complete Animal Control, said.
"There is an inspection beforehand and we do a consultation with the property owner to determine what kind of repairs will be needed once the animals are removed."
Ellis also said that her company uses new techniques that go beyond traditional humane trapping methods.
"Right now it's baby season so trapping is not actually the preferable method for removing raccoons and squirrels. If you trap a mother even in a humane trap the babies will be left and not know what to do," she said.
"Then you can end up with a dead animal situation. It's really not humane and can make matters worse."
Complete Animal Control uses a pheromone product that gives off the scent of rodent's natural predators. Ellis said the smell compels the mother to leave any nest that she's created and take younger family members with her.
Neither Ellis nor Jesse Sutton, co-owner of Creature Control, expressed much concern that the new HSHV service would cut into their business.
Kern said that the HSHV is not trying to become a major competitor to the already established wildlife control experts in the area.
"People call us all the time and need help, we just want to be able to provide the service they're asking for. If it's something we can do safely and timely, we'll do it," she said.
"If there's major damage or there's going to need to be extensive repairs, that's not what we have expertise in. There will be times when we're the right fit for people and there will be others when we won't."
Kern said before this service was established, HSHV staff and volunteers would direct callers to do their own due diligence before picking an animal removal service. The goal of the new program is to provide ease of mind for Washtenaw County residents who want to make sure that any wildlife on their property is removed without injury.
Ben Freed covers business for AnnArbor.com. You can sign up here to receive Business Review updates every week. Reach out to Ben at 734-623-2528 or email him at benfreed@annarbor.com. Follow him on twitter @BFreedinA2