Posted on
Thu, May 27, 2010 : 6:02 a.m.
Wind turbine problems create opportunity for Ann Arbor region's alternative energy sector
By Nathan Bomey
The Ann Arbor region's nascent wind energy sector is positioned to help wind turbine manufacturers and utility operators address a key industry problem: improving the performance and reliability of turbines and wind farms.
To become a competitive option for electricity companies, wind companies need to improve the efficiency of turbines that are known for breaking down as soon as six years after initial installation.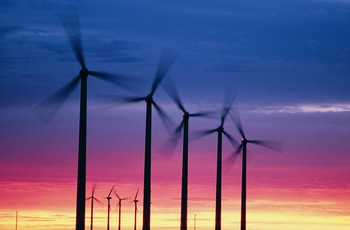 Photo courtesy of Business Wire
"What we really want to see is Michigan being the engineering leader in the wind industry," said Marc Wiseman, vice president for clean energy for engineering firm Ricardo Inc., whose North American corporate headquarters is in Van Buren Township.
Several startup companies in the Ann Arbor area and other established engineering firms are offering consulting services to the wind industry.
Ricardo announced this week that it was partnering with Troy-based engineering firm LMS International to form the North American Wind Energy Innovation and Development Center.
Through the joint initiative, engineers at both companies will offer a variety of services to wind turbine makers, government groups and utility companies - including modeling, simulation, testing, development and parts design.
Local companies have identified market opportunity for wind turbine engineering services, in large part because of the unreliability of wind gearboxes and turbine blades.
"It's a combination of getting the cost down and increasing the performance," said Loch McCabe, president of Ann Arbor-based alternative energy consultancy Shepherd Advisors. "Given relatively low gas prices, given the decrease in demand for electricity and given the lack of cohesive national policy around renewable energy, all of this is increasing the pressure upon traditional manufacturers to reduce both capital cost and operating cost."
Wiseman said turbines need to operate efficiently for 20 years to be cost competitive but that many wind farm operators are reporting "major system failures" within 6 to 10 years.
"We really need to get the reliability up," Wiseman said.
The questionable dependability of traditional wind technology is offering opportunity to startups like Canton Township-based Danotek Motion Technologies and Ann Arbor-based Accio Energy.
Danotek believes its permanent magnet generator technology can help wind turbines operate more efficiently and with less regular maintenance. The company estimates that its technology can increase a wind turbine's efficiency by 15 percent, producing $1 million in additional revenue apiece.
Danotek has attracted about $21 million in venture capital from reputable investors such as California-based Khosla Ventures. The firm is using the funds to transition into production and recently hired a new CEO, Don Naab. Danotek grew from about 20 employees a year ago to 40 now.
"When you look at where wind is going and the technology lead that I think Danotek has, that was the attraction," said Naab, who took over as CEO for founder Dan Gizaw, now the chief technical officer. "It's a small company today with tons of opportunity and they're at the cusp of a technology that I believe is going to be adapted by, if not all, most of the wind turbine manufacturers across the globe."
The inefficiency of traditional wind turbines offers opportunity for new wind energy technologies, as well. Accio Energy is developing a device that can generate electricity without moving parts.
Other local firms are focusing their efforts on helping wind companies make better decisions about where to locate wind farms and improve performance of traditional wind turbines:
--OptoAtmospherics, a spinoff of Pittsfield Township-based Michigan Aerospace, is commercializing a laser-based system that uses software to improve wind turbine performance.
--Ann Arbor-based FlexSys, which spun out of the University of Michigan in 2000, offers software-based modeling to improve wind turbine blade design.
--Consultants at Pittsfield Township-based Analytical Design Service Corp. are offering software-based consulting services to the wind industry.
--Orisol Energy, a Spanish firm that established its American headquarters at the Pittsfield Township offices of sister company Aernnova Engineering, is developing utility-scale wind and solar energy projects.

Startups seeking to introduce new technologies into the market are increasingly turning to displaced automotive engineers, experts said.
"Generally speaking, we're increasingly focused on performance enhancement and cost reduction, and those are key skills that have been absolutely drilled into automotive engineers," McCabe said. "There is a general sense that automotive engineers think in the right direction."
David Young, general manager of LMS North America, said the "similarities between the types of engineering" required for the wind and auto industries could make for a smooth transition.
McCabe cautioned, though, that many wind energy startups need engineers that thrive in an entrepreneurial environment.
"For the most part, these are growth-oriented, very entrepreneurial firms that demand a tremendous amount from their teams in terms of dedication and being willing to do more than just the job," he said. "There's definitely a learning curve that has to happen."
Contact AnnArbor.com's Nathan Bomey at (734) 623-2587 or nathanbomey@annarbor.com. You can also follow him on Twitter or subscribe to AnnArbor.com's newsletters.