Posted on
Sat, May 21, 2011 : 5:55 a.m.
Wireless Zone opens new store on Main Street in downtown Ann Arbor
By Nathan Bomey
Franchised cell phone retailer Wireless Zone opened its highest-profile local store last month on South Main Street in downtown Ann Arbor.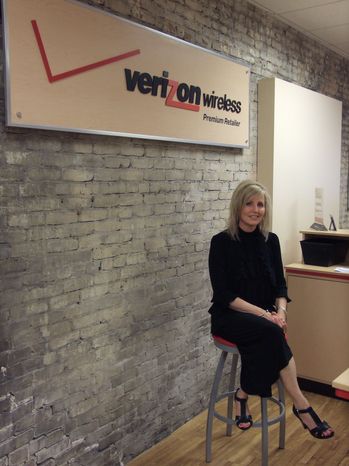 Nathan Bomey | AnnArbor.com
It's the
fifth Wireless Zone store
owned by franchisee
Debbie Peterson
, who said her store is a good fit for downtown Ann Arbor, in part because it gives downtown workers a chance to buy phones without having to travel outside the area.
"This is a wonderful, vibrant downtown community, and we have a wonderfully vibrant device," she said. "We just think it's the right thing to do for people who are already parked down here. I just thought it would be a good fit."
The next step, she said, is upgrading the Wireless Zone sign that hangs over the sidewalk. She wants to get rid of the paint that's peeling and "make it look articulate." She initially wanted to be lit but found out that's not possible due to Historic District regulations.
"A lot of people have said that sign is such a monstrosity," Peterson said. "Nobody likes it."
Peterson also operates stores on Jackson Road in Scio Township, Carpenter Road in Pittsfield Township, in a strip-mall across from the Walmart in Pittsfield Township and on West Avenue in Jackson. She also owns the buildings on Jackson Road, Carpenter Road and West Avenue.
Wireless Zone's new store on Main Street next to Keith Hafner's Karate and Espresso Royale will host a grand opening event in early June. The store is located in the space owned and formerly occupied by Shahin Clothing & Custom Tailoring owner Shahin Uzunjian's shop.
The new store's opening comes after Petersen acquired the retail segment of Ann Arbor-based 20/20 Communications from her former business partners in the fall.
Wireless Zone is authorized to sell Verizon Wireless cell phone plans and products, which now includes Apple's iPhone and iPad.
Peterson, who is leasing space from Uzunjian, estimated that she spent more than $50,000 to upgrade the space, including long overdue electrical upgrades and a fire suppression system. She peeled back the northern wall on the interior to reveal an old brick wall she didn't know was there.
"We called it a rustic modern theme," she said. "It just felt like we were being respectful of the old and the historic while introducing the new technology that no one can ignore anymore. We thought people would feel like it's a little charming and comfortable."
The downtown Ann Arbor location is the 33rd Michigan store for Wireless Zone, the largest franchised retailer for Verizon, which has more than 450 stores, all in the eastern half of the U.S.
"We have a proven system that works and then we take local people and train them and get them into the industry. No one knows a community better than the people who live in the community," said Sean Fitzgerald, Wireless Zone's vice president of franchise development. "We have a significant presence now in Michigan and we continue to see great growth. I anticipate another great year for us in Michigan as we grow in that market area. There's still a lot of opportunity."
Contact AnnArbor.com's Nathan Bomey at (734) 623-2587 or nathanbomey@annarbor.com. You can also follow him on Twitter or subscribe to AnnArbor.com's newsletters.