Posted on
Wed, Aug 4, 2010 : 6:02 a.m.
Microcar collector from Ann Arbor shows off latest addition: 1959 Goggomobil
By Ronald Ahrens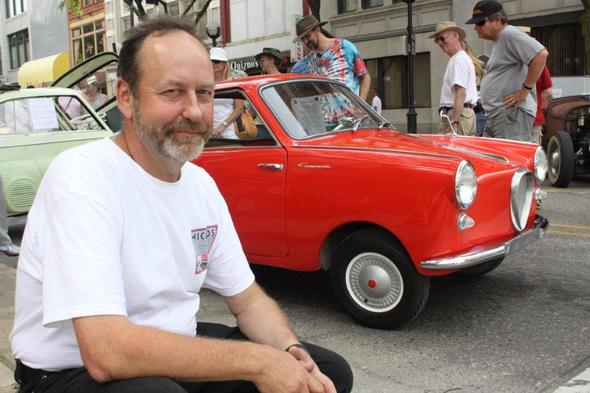 Ronald Ahrens | For AnnArbor.com
Learning to sew has pushed John Hollowell of Ann Arbor beyond his customarily narrow and low limits.
As a collector of microcars, which enjoyed their first full flowering in Europe and the United States in the two decades after World War Two, Hollowell has undertaken all sorts of mechanical projects.
Upholstery stitching and stuffing techniques are something else.
But his 1959 Glas Goggomobil TS400 coupe needs new interior trim. The sleek red fastback made its debut on July 9 at the Rolling Sculpture car show in Ann Arbor, enjoying pride of place with three other microcars from Hollowell's collection. He also brought along Isetta bubble cars in pink and green, and a tiny little Japanese pickup of obscure origins that looked like an overambitious golf cart.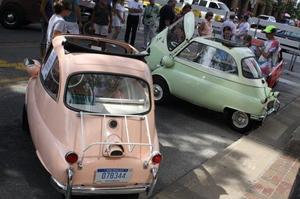 The simplest definition of a microcar is "a small, fuel-efficient automobile." But the discerning observer always recognizes one upon first sight. They're ridiculously small automotive tea cups. One is lacking in length, while the next lacking in height. Most are lacking overall. Drivers and intrepid passengers tuck themselves in and hope they're not broadsided by a wayward, uninsured Yorkie.
Located in Dingolfing, Germany, the Hans Glas company built motor scooters and then nerved up in order to produce Goggomobils. Over the years, prodded along by the Italian design house Frua, these cars went from darling to daring. Goggomobil production was fairly impressive, with more than 66,000 of the coupes made.
Hollowell picked up his Goggomobil three years ago in Cleveland. He had employed what he calls his "standard method" of placing the photo of an Isetta in Auto Trader with the tag line: "Wanted: Microcars."
He found the Goggo of his dreams at the back of an auto body shop where music burped annoyingly from a boosted sound system. After some haggling, he paid $2,700.
It wasn't in perfect condition. "The lower body was in rough shape," he said.
The coupe is powered, so to speak, by a rear-mounted, 400-cubic-centimeter engine of two cylinders. This air-cooled, two-stroke unit has a technically advanced premix injection system that squirts oil into the combustion chambers, obviating the need for a prepared gas-oil mixture. (A two-stroke engine burns oil with gas in order to lubricate the cylinders.)
Another somewhat advanced feature—many American cars of this era offered fully automatic transmissions—is the electronic-preselect gear-changing system. Hollowell describes it as "a kind of joystick" that's integrated with the dashboard.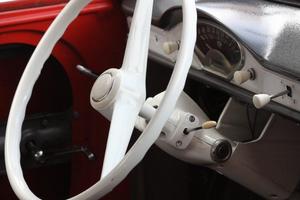 Ronald Ahrens | For AnnArbor.com
"You've got to think while you're doing it."
Use of the clutch pedal is required on takeoffs but not during gear changes.
And the Goggo has other not-to-be-wheezed at features, such as the fully independent suspension. BMW was enticed to buy out their burgeoning rival in 1966, before Goggomobils became going-going-gone.
The restoration of Hollowell's coupe has progressed to the upholstery stage despite interruptions from new acquisitions in the collection.
And there was the trifling fact of sometimes insurmountable frustration. He said he sometimes thought about using heavy equipment from his landscape architecture business to flatten the coupe (even further).
But he persevered. Parts came from Uwe Staufenberg, a specialist in Germany.
"He's a Goggo guy. He's all about Goggomobils."
This question about Hollowell: Why microcars?
Growing up on Beechwood Drive, with the sound of M-14 traffic well within earshot, he often watched a neighbor frolic with two Isettas. Seeing one offered for sale at a repair garage many years later, he went for it.
As the collection builds, he rents out microcars for weddings, commercials and photography props. But personal use usually entails complications.
"When you drive that thing," he said of the Isetta, "you've got to give rides."
And giving rides can be hazardous to the ego.
At one party on Revena Boulevard, he agreed to take a girl along in an Isetta. Climbing out afterward, she said, "Mister, it sounds like your car is cutting grass."