Posted on
Sun, Jan 3, 2010 : 6 a.m.
With Hollywood as its customer, the Wine Seller moves to expand
By Janet Miller
When a Hollywood production company wanted to deliver a bottle of 2003 Silver Oak Cabernet to crew members working on a film in the Ann Arbor area last summer, they called The Wine Seller. The store wrapped the $113 bottle of California wine in a gift bag and hand delivered it. 
That's the kind of reputation Swetang Patel wants to continue to build as his family expands their north side Ann Arbor wine shop. Swetang owns The Wine Seller with his father, Vipin.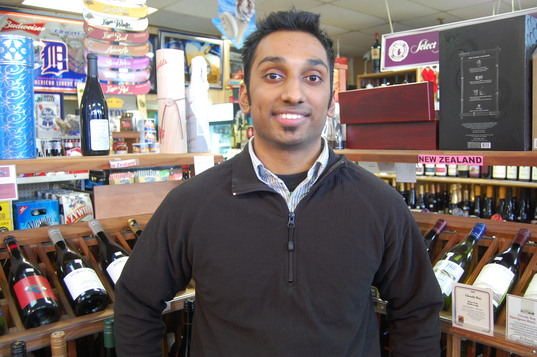 Swetang Patel, along with his father Vipin Patel, owns The Wine Seller on Plymouth Road, in the back of the Plymouth Road Mall.
Janet Miller | For AnnArbor.com
Located in the rear of the Plymouth Road Mall, The Wine Seller has gone from a neighborhood mom and pop convenience store with a cave-like interior to a destination wine shop since the Patels purchased it nearly 5 years ago. They offer starter wines as low as $6 a bottle up to premium wines that ring in at $280.
Other than enjoying an occasional glass of wine at dinner, no one in the family knew anything about wine, said Swetang Patel, who joined his father in the business after he graduated from the University of Michigan in 2008. "I didn't know the difference between a Pinot Noir and a Cabernet. I had no idea." 
Patel became a student of "The World Atlas of Wine" and a fan of a wine video blog called the Wine Library. "I'm finding new things every day," Patel said.

After slowly upgrading the interior over the past 5 years, the Patels are ready to take a giant step: They will more than double their 1,200-square foot shop, expanding into the former Ann Arbor District Library North Branch, and adding an adjacent Indian grocery, Om Market, in another 1,400 square feet.

The expansion of The Wine Seller should be completed in two months, with Om Market opening in the spring, Patel said. The market will carry Indian groceries such as flour and spices along with carryout such as samosas and Indian sweets. They will also offer catering.

The poor economy gave his family some pause about expanding, Patel said. "We could stay as we are, keeping our business going. But our client base is growing and we're struggling for space…. If you take the risk, people will come."

The expansion will allow them to increase their wine offerings to 2,000 bottles and expand their crafted beer selection. The expansion will also include a new computer system to track inventory.

"Until now, we've done it by paper and memory," Patel said. The new system will help manage the Wine Seller's 1,700 different wines and a large selection of craft beer along with domestic beer, 
While he was new to wine in the beginning, Patel said he's been on a fast track to learn.

"Getting passionate about the business has helped it grow," he said. The trick, he said, is to offer customer service, searching for hard-to-find wines and making recommendations to adventurous customers eager to try something new. "I like to have my customers venture out," Patel said. 
Take, for example, the Hirsch Vineyards Pinot Noir. No one was carrying it locally, but Patel found a local distributor for the $60 bottle and was able to offer it to his customer. 
After a year of fast-track learning, Patel has mastered wine vocabulary. He talks about a 2006 Vertente Douro from Portugal, which he recommended to a regular customer drawn to California Cabernets: "The fruit stands out, the tannins are not great, so it's an easy drinking wine. It's fruit forward with a good frit balance."