Posted on
Sun, Feb 19, 2012 : 5:59 a.m.
With iPads in mind, Ann Arbor area recycling firm ReCellular adding jobs after tough 2011
By Nathan Bomey
Cell phone recycling firm ReCellular Inc. has returned to stability after a turbulent 2011, when the company laid off about 70 workers after a dramatic shift in its core business.
The firm, which recently moved its headquarters from Ann Arbor to Pittsfield Township, is adding capacity to its 57,000-square-foot plant in Dexter, where workers sort, process, clean and repackage cell phones for resale and distribution.
ReCellular, founded by entrepreneur Chuck Newman more than two decades ago, was unprepared for the sharp shift in consumer interest from traditional cell phones to smart phones, such as Apple's iPhone and devices powered by Google's Android operating system.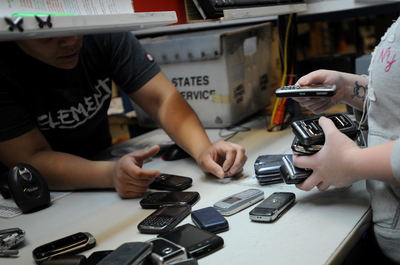 Melanie Maxwell I AnnArbor.com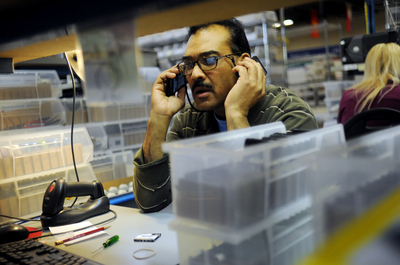 Melanie Maxwell I AnnArbor.com
The shift left ReCellular with excess inventory — essentially, refurbished "flip" phones — that had lost significant value in the marketplace.
"Nobody saw that coming so quickly," ReCellular CEO Steve Manning said in an interview.
The shift led directly to ReCellular's layoffs in late spring 2011, which reduced its workforce to more than 250.
"When the market shifted to smartphones so radically we were stuck with literally millions of flip phones and no one wanted flip phones anymore, so certainly our inventory was worth a lot less than it used to be and we didn't have the product to match the market demand," said Jeff Bocan, managing director of the Michigan office of investment firm Beringea, which has backed ReCellular.
After the shift, ReCellular pivoted quickly, adapting its recycling plant and adding new workers to catch up to the market. The layoffs were temporary. The company, which runs a 40-hour shift Monday through Thursday and a 36-hour shift from Friday through Sunday, has raised its workforce to about 300. General manager John Wetherholt said the plant could ramp up capacity by adding shifts.
Now, emboldened by new opportunities for recycling in the tablet and laptop markets, ReCellular needs to fill 20 job openings.
About 60 percent of the 300,000 to 400,000 monthly units the company processes were "high-value" phones, tablets and netbooks. Recycling smartphones for resale generates more profit per unit than traditional cell phones, although margins are thinner, Bocan said.
ReCellular, the world's largest recycler of cell phones, has deals with most major cell phone service providers and several nonprofits. The company examines each individual device it receives, determines whether it would have worth on the secondary market or whether it can be given away to soldiers, for example. Then, workers digitally or manually strip the phones of the previous owner's data, cosmetically improve the phones, repackage them and prep them for sale or distribution.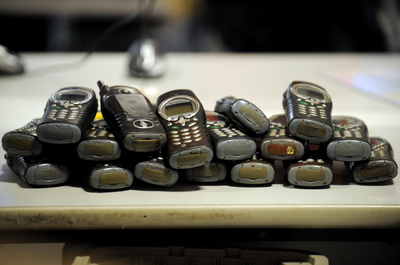 Melanie Maxwell I AnnArbor.com
"No late-night texts remain on your cell phone after we're done with it," said Joe McKeown, ReCellular's vice president of marketing and communications.
The company receives phones unsolicited through various recycling programs and carrier contracts, but it also offers cash for phones through SecureTradeIn.com.
Although smartphones will continue to be a major opportunity for ReCellular, the company is bolstering its capacity to recycle tablet devices like Apple's iPad. If, as expected, the consumer electronics company introduces a third version of the iPad in 2012, ReCellular expects to receive a significant influx of used devices.
"We're on the path to be a much larger and more sophisticated company," Bocan said.
Contact AnnArbor.com's Nathan Bomey at (734) 623-2587 or nathanbomey@annarbor.com. You can also follow him on Twitter or subscribe to AnnArbor.com's newsletters.