Posted on
Thu, Jan 14, 2010 : 6:04 a.m.
Wolverine Brewing Co. will open westside Ann Arbor microbrewery by April
By Paula Gardner
Owners of an Ann Arbor-based microbrew just signed their first lease for space that will allow them to increase beer production, add product lines and establish a tasting room on the west side of the city.
Wolverine Brewing Co. will occupy about 6,000-square-feet in the former Big George's Home Appliance Mart building on West Stadium.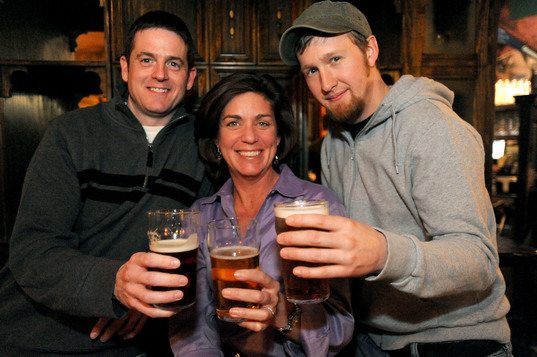 Angela J. Cesere | AnnArbor.com
The deal lets the partners behind the beer - already sold across the state under the flagship Wolverine Premium Lager brand - build their niche in Michigan's growing specialty beer market, which to date has focused on ales.
"We are a first," said co-owner Matt Roy, "and we think the market's ready for it."
Wolverine Brewing Co. was launched three years ago with the idea and the corporate formation, Roy said. The beer followed.
"We literally spent the first year as a company producing beer in my basement," he said.
The flagship product was designed to have broad appeal so that the company could gain a distributorship and build sales from the single recipe.
The beer is an American Premium Lager, one of about 100 official beer categories in the United States., Roy said. It's also the most popular style among mass-produced beers.
"It's what everyone is used to drinking," Roy said. Wolverine, he added, "is on the more full-bodied end of the spectrum."
The move to West Stadium gives the company control over production, which has been done on a contract basis with Michigan Brewing Co. in Webberville, east of Lansing.
The company will add new beers to its product line quickly. All will be lagers, which will distinguish the company among other large Michigan microbrews, which typically focus on ales.
"The day we open our doors, we hope to have four beers available, maybe more," Roy said. "We've been working on our recipes for three years."
Head brewer will be Oliver Roberts, now assistant brewer at Grizzly Peak in downtown Ann Arbor. Ron Jeffries, owner of Jolly Pumpkin in Ann Arbor, also has been helpful with the set up, Roy said.
Roy said he and his two partners - E.T. Crowe and Trevor Thrall - sought space for over a year, touring several Ann Arbor properties with Dan Stewart of Michigan Commercial Realty before committing to the building on West Stadium, listed by Susan Moore of Colliers International.
"You really need an ideal location," Roy said. That, he added, means a mix of industrial space for the brewing and an appropriate setting for retail sales.
Brewing equipment was been purchased from a company in Colorado, said Crowe. Move-in starts by the end of January, she added.
The partners have a vision for the facility that includes creating a taproom space where customers can gather and drink the beer. It won't be a restaurant, Crowe said.
"There are so many great brewpubs in this town already," she said.
But the Wolverine Brewery will offer its own beers in a comfortable seating, along with the ability for customers to bring food in or order delivery, possibly through partnerships with nearby restaurants. It's a similar model to the Corner Brewery in Ypsilanti.
The company produced 150 barrels in 2009, up from 35 in its first year and 100 in its second year. The state classification for microbrews is a company that brews under 30,000 barrels per year.
The self-funded expansion is part of the company's business plan. But it also lets the owners create the kind of culture for its customers that they said is impossible to generate by not using their own brewing equipment or operating their own taproom.
"The craft beer movement is something that people want to be a part of," Roy said. "They want to see the tanks and see the beer being made."
For more information on Ann Arbor restaurants, visit AnnArbor.com's restaurant guide. 
Paula Gardner is business director of AnnArbor.com. She can be reached at paulagardner@annarbor.com or 734-623-2586.