Posted on
Fri, Mar 15, 2013 : 2:59 p.m.
Shoe boutique specializing in transgender, stripper footwear opens in Ypsilanti's Depot Town
By Tom Perkins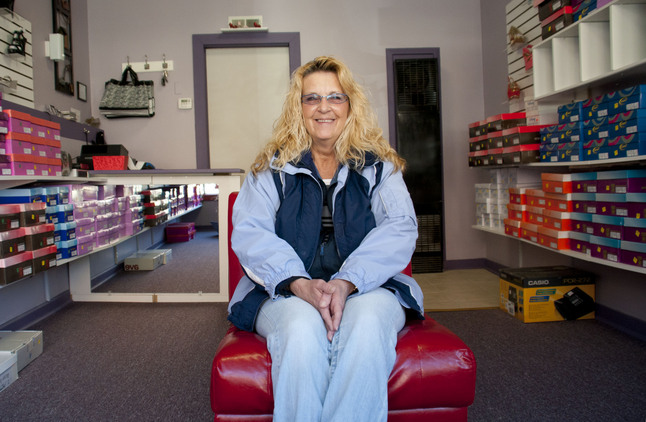 Tom Perkins | For AnnArbor.com
Every time transgender punk rock singer Jenna Talia hits the stage in high heels, she encounters the same problem.
The former Notre Dame football team defensive end and wide receiver stomps and flails like Iggy Pop's more-spastic sister, and her big frame puts big time pressure on her heels, which inevitably snap during the performance.
But a new boutique in Ypsilanti's Depot Town, Screamin' Hot Shoes, is hoping to remedy that problem. The shop, at 22 E. Cross St., is focusing on women's shoes, and specializing in transgender and stripper footwear. It's owned by Ypsilanti businesswoman Paula Filek, who also operates Paula's Barber Shop several doors east on Cross Street.
Jenna was part of the inspiration for Filek taking her store this direction and Jenna now has a local source for six-inch heels that won't bust every time she sashays across the stage when her Detroit-based band Glitter Trash performs.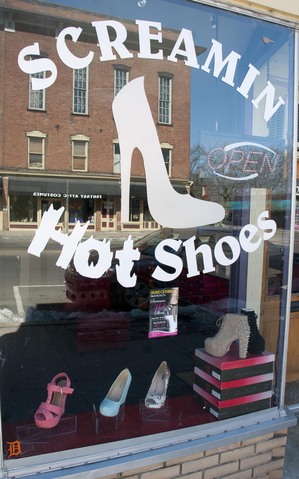 Tom Perkins | For AnnArbor.com
"She has a really hard time finding shoes because she jumps off the stage like a crazy person and breaks them, so I have shoes that are big enough and won't break," Filek said.
Talia has yet to stop into the brick and mortar shop, but purchases shoes from Screamin' Hot's online store.
"She carries larger sizes and has better made, good looking shoes; not junk," Talia said. "I feel pain for females who have larger feet because all the shoes in larger sizes are ugly. People who have odd sizes or big sizes have a hard time finding good shoes, but Paula's stuff is good looking."
Talia is 6 feet tall and weighs 220 pounds, so her shoes - and other transgenders' shoes - require metal poles through the heel and extra support on the bottom of the shoe, Filek explained. That type of support also is necessary for strippers who dance in similar boots and shoes.
Among the labels Filek stocks at Screamin' Hot are Soda, Delicious, City Classified and many more. They range in price from $40 to $500.
But Filek stressed that her store also is carrying flip flops, flats, wedges, sandals, low heels, boots and footwear for all women - not just transgenders or strippers.
"I'm going to provide shoes for strippers and transgenders, but to kick it off it's mostly just for women in general," Paula said, though the shoes in her roughly 200-square-foot boutique she leases are undeniably flashy and sassy.
Filek met Jenna through a mutual friend at Paula's Barber Shop, and had Jenna model for a Screamin' Hot shoe show at McShane's Pub in Detroit's Corktown. There, she learned more about what transgenders need in a shoe.
Screamin' Hot's shoes for that demographic are mostly purchased from one of several California distributors, and the website has some shoes that can be quickly ordered if they aren't yet in the store.
Filek said she opened Screamin' Hot in Depot Town because she likes the vibe there and it's near her barber shop, so she can walk back and forth between both businesses.
She said she's not concerned that neighbors won't like the transgender and stripper clientele.
"They need shoes, too," she said. "Try to close me down, or come in the store and see it."
As for her target market, Filek said she believes stocking "regular" women's shoes will help keep her afloat, but said she also thinks she will see more business from transgenders, cross-dressers, drag queens, strippers or others who might need her services as word spreads.
Neighboring bar and concert venue Woodruff's, for example, has held drag queen shows in the past, and Filek says the customer base for her wares is large.
"There are more of them around here than anyone knows," she said.
Jenna expressed similar thoughts, and said the store is extra special because there are so few places where transgenders can go and be treated respectfully by the owner and staff.
"That's a big deal for people who are different," said Jenna, who is from Harper Woods. "Having people be sympathetic goes a long way to help you be true to who you are.
"They will travel when they find out there are stores where they can feel comfortable and people treat them respectfully. It's really hard to find venues like this where you can feel comfortable walking in."
The store has been open for about a month, but the grand opening celebration will be Friday through Sunday, during which time Filek will offer a "buy one, get one half off" special. The hours are 10 a.m. to 6 p.m. Tuesday through Saturday and 12 p.m. to 5 p.m. Sunday. It is closed Mondays.
Tom Perkins is a freelance reporter. Reach the AnnArbor.com news desk at news@annarbor.com.