Posted on
Fri, Aug 16, 2013 : 6:20 p.m.
Urbanwood Project's family-friendly Sawmill Day celebrates wood with personality
By Janet Miller
Ann Arbor likes its wood gnarly. And knotty. And holey.
Ann Arbor's appetite for wood with personality has resulted in the Urbanwood Project, a joint venture between Recycle Ann Arbor and the Southeast Michigan Resource Conservation and Development Council, growing each year since it started in 2006, despite the recession and the slowdown in home building.
The Urbanwood Project, which offers a marketplace for lumber milled from urban trees rescued from the wood chipper, will host its third annual Sawmill Day from 10 a.m. to 2 p.m. Saturday at RAA's ReUse Center, 2420 S. Industrial Highway. There will be demonstrations of portable sawmills along with the chance to meet local sawyers and learn about urban lumber.
Urbanwood Project photo
The marketplace is everything a typical lumberyard is not, said Jessica Simons, Urbanwood Project's coordinator. While big box and local lumberyards sell straight, uniform and flawless wood from a handful of popular species, the marketplace deals with lumber that can be marked with wormholes, knots and rough or live edges in haphazard lengths and widths.
While lumberyards sell pine, oak, maple, cherry and perhaps walnut, the Urbanwood Project has sold more than 30 species of wood, including box elder, locust and catalpa. Walnut, with its rich, dark grain, is the biggest seller. Trees removed from yards and woodlots aren't as uniform as trees grown commercially, giving them wilder shapes, Simons said. But because the flow of lumber is unpredictable, the marketplace's stock ebbs and flows. For instance, the tornado in Dexter last year created a surge in lumber.
Marketplace customers are looking for unique wood, said Lee Ullmann, of Ullmann's Urban Sawmill in Dexter. Red oak, a big seller at a typical lumberyard, doesn't move, he said. "People want the weird stuff." Lumber he milled from an old apple tree stump flew off the shelves. Mulberry and sweetgum quickly disappear. "Apple is a pretty wood with a pretty color, but it's not something you'd find at Lowe's. You don't see them cutting down old apple orchards for lumber," Ullmannn said.
The Urbanwood Project has helped keep his business afloat. Sales from what historically drove his business — milling lumber on-site for custom built houses — has dropped. But his sales at the Urbanwood Project showroom have increased. He figures the marketplace as a whole sold about five semi-loads of finished lumber last year, with about one semi-load coming from him, Ullmann said.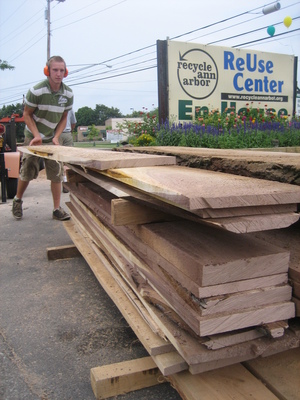 Urbanwood Project photo
The marketplace attracts small and large buyers, from woodcarving hobbyists and do-it-yourselfers looking for a single piece of wood to local architects and homebuilders looking for wood for kitchen cabinets. Ann Arbor's AC3 Collective Architecture used wood from the project for their conference room floor, Simons said.
The Urbanwood Project sells lumber from three locations: RAA's ReUse Center along with Habitat for Humanity ReStores in Flint and Haslett, near Lansing. While the Urbanwood Project is financially supported by RAA, the day is nearing when it will be self-sufficient, Simons said. For now, participating businesses pay rent for their space along with a small percentage of sales to cover costs. The gap between these payments and the ReUse Center's cost to host and staff the showroom is covered by RAA, Simons said.
Six businesses participate in the Urbanwood Project, including sawmills and tree services. They are all from southeastern Michigan and they are all small family businesses. The project's policy is to sell only trees that were going to come down regardless of their lumber value. This includes ailing or dead trees (many of these were ash trees attacked by the Emerald ash borer), trees damaged in storms and trees removed for building purposes, such as adding an addition.
The Urbanwood Project fits in well with the growing buy-local movement, Simons said. "It can be compared to the farmers' market movement where people are tiring of the big box mindset and want to know where their food is coming from. This is a wonderful extension of that. People want to know where the products in their homes are coming from. This is more than an environmental story. It's a support your local business story."
Janet Miller is a freelance reporter for AnnArbor.com. Contact the news desk at news@annarbor.com or 734-623-2574.