Posted on
Thu, Nov 15, 2012 : 5:58 a.m.
Workers at former ACH plant in Saline facing tough choices, union frustrations
By Ben Freed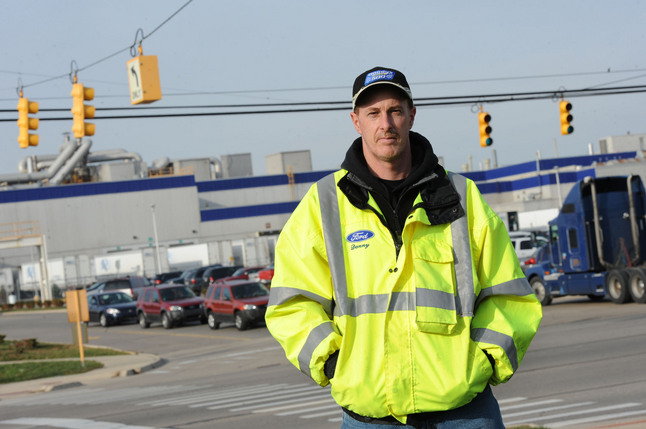 Melanie Maxwell | AnnArbor.com
Danny Kelly
is not sure whether he will have a job on Friday at 6 p.m.
Kelly is a single parent who took a job in 2007 at the former Ford Motor Company and Visteon interior components plant in Saline hoping for better healthcare coverage. He needed the coverage to take care of his nearly 9-year-old old son who has ongoing medical complications due a spider bite.
Kelly expected to be hired as a full-time Ford worker, but has been working at the plant for seven years as a 'temporary' hourly employee of Automotive Components Holdings.
Saline Plant Fast Facts:
Size: 1.6 million square feet
Primary products: instrument panels, door panels, consoles
Converted from Ford to a Visteon Plant in 2000
Transfered from Visteon to holding company ACH in 2005
Nearly sold to Johnson Coltrols in late 2007
Sold to Faurecia in June, 2012
Employees in November, 2007: approximately 1,150
Employees in August, 2011: approximately 2,300
Employees today: approximately 1,400
French automotive company Faurecia bought the plant, which manufactures instrument and door panels, in June from ACH, which Ford created to find buyers for the Visteon plants. As the ACH plants are sold, many of their employees have been hired by the new buyers or by Ford.
Kelly is scheduled to be hired by Ford and transferred to the company's Flat Rock plant in spring 2013.
But an October 25 letter to the 444 ACH employees still active at the plant from manager Mike Bauder threw a wrench into Kelly's plans when it announced that all ACH workers who had yet to be hired by Ford or Faurecia would be transferred to a new company known as Devon Alpha Services (DAS).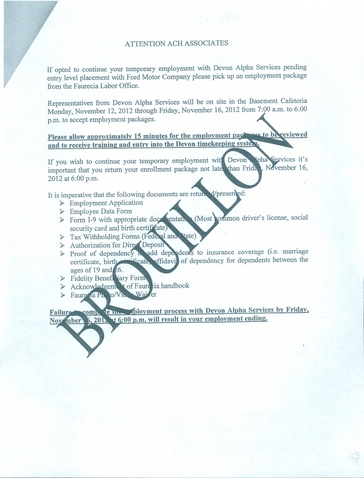 A second letter arrived on Nov.8 demanding enrollment with DAS by Friday, Nov. 16. The letter had "BROUILLON" ("draft" in French) stamped across it and was accompanied by the Faurecia handbook and some terms of employment. Failure to comply would "result in your employment ending."
While compensation and benefits at DAS would be similar under the new company, one line on page 4 of the employment packet caught Kelly's eye. For him, it's a deal-breaker.
"I agree that if I am hired, DAS may terminate my employment with or without cause, and with or without notice, at anytime," the statement reads. Instructions at the bottom of the page council signers that "your signature indicates that you expressly agree with the above."
For Kelly, and many at the 1,400-employee Saline plant, that language is enough to convince them that no job might be the better option.
"They've given us an ultimatum, either sign this or don't have a job," he said.
"To be honest, I'm still trying to figure it out. I've been online trying to find other opportunities and to be honest with you there aren't many jobs out there. It's close to the holidays and Christmas and I'm just trying to figure out what to do. I'm at a standstill. I don't really know what's a wise decision and what isn't."
Complicating matters for Kelly and his fellow plant employees is their assertion that the United Auto Workers union isn't giving them the advice they need.
"I talked with my international rep about the language on page 4 [about at-will firing], and he said he'd never seen it," Kelly seen.
"It just doesn't make any sense. To be honest with you, I am just really disappointed. I feel that my local union and my international union has let me down and failed me and my co-workers."
A union announcement regarding the transfer of ACH employees to DHS promised that "your pay and benefits will not change" by choosing to sign on with the new company.
However, Debi Muncy, a Ford employee formerly at the Saline plant pointed out that at the bottom of the same page employees were promised that they would be given the opportunity to vote on a UAW-DAS collective bargaining agreement.
"No one has seen that agreement, and they've told us they haven't even finished it yet," she said.
"How can they promise nothing will change if they don't have a contract?"
The current contract dispute is only the latest in a litany of allegations that some plant workers have leveled against the union, Ford, ACH, and Faurecia. Muncy said that recently a temporary staffing solutions agency named Belcan has been used to bring new hires to the plant, who are paid at a significantly lower rate than Ford, ACH, or Faurecia employees.
Muncy said The new Belcan employes are paid at a rate of $11 per hour while ACH workers make $16.50 per hour and the few Ford employees still working in the plant make upwards of $20 per hour. She added that she thinks the pay disparities are creating hostility in the workplace and that the new temporary hires are displacing some union workers.
"This is supposed to be a union shop…" she said.
"The UAW is aware of [what's going on], the corporation is aware of it, and no one seems to have any problem with this."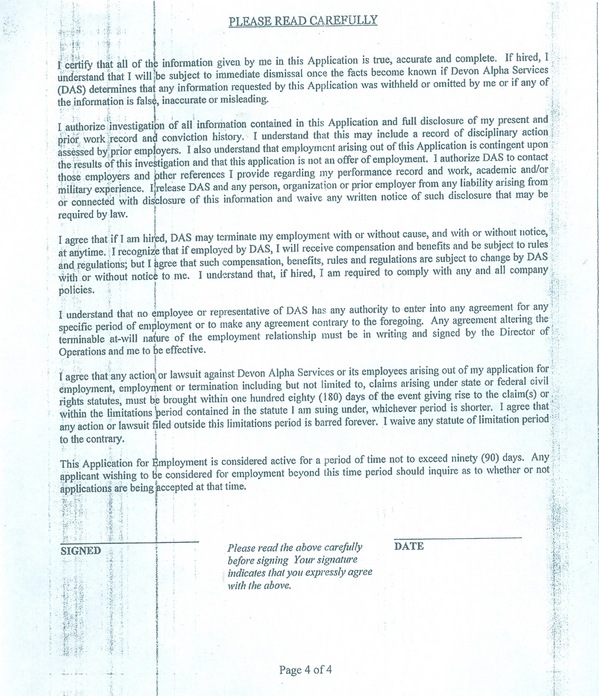 Numerous attempts by AnnArbor.com to contact both international and local union offices for comment over the past week have been unsuccessful. Faurecia was contacted early in the week but has declined thus far to issue a comment or statement on the employment status of workers at its plant.
Ford issued a statement that ACH attempted to preserve as many jobs as possible during the economic downturn, and that most employees at ACH plants received job options either from Ford or a new buyer.
"Nearly 20,000 U.S. employees at ACH plants got jobs with either the buyer or Ford - or they voluntarily chose a retirement or buyout package and were replaced. We believe this is a remarkable story, especially given the economic downturn during recent years," the statement said.
All ACH employees in Saline were offered jobs with Faurecia when the French company bought the plant, but many turned down the offer hoping for jobs at Ford. Many plant workers felt that Faurecia's rules and terms of hire were more advantageous to the employer and preferred to remain "preferential hires" at Ford plants.
For Kelly, receiving a full time job from Ford would only be the first step. He claims that despite the fact that he's been building Ford parts for seven years that he would be treated as a new hire at the Flat Rock plant.
"They would make me wait 8 months until we get benefits again," he said. "And then they will keep our benefits and wages frozen for another year."
Kelly's complaint, along with a host of others from former Saline workers currently at plants across Michigan and the Midwest are being taken before the National Labor Relations Board by Patricia Meyer, president of the Labor Advocate Workers Solution, Inc. a policy arm of union watchdog group Uniting All Workers.
Meyer and Muncy hosted a meeting at the Liberty School in Saline on Sunday, Nov. 11 where they encouraged workers to carefully read contracts that were put in front of them and to question their union representatives about what they perceived to be unfair terms. Nearly 100 workers attended the meeting, and many were vocal in their displeasure with both the motor companies and the union.
"We expect the car companies to try to pull one over on us, that's what they do," one plant employee who asked to remain anonymous said.
"But we don't expect that from the union, they're supposed to be sticking up for us. That's what they're there for."
Ben Freed covers business for AnnArbor.com. You can sign up here to receive Business Review updates every week. Reach out to Ben at 734-623-2528 or email him at benfreed@annarbor.com. Follow him on twitter @BFreedinA2