Posted on
Thu, Jun 20, 2013 : 5:07 a.m.
Workshop on expanding sales in China, and more
By AnnArbor.com Staff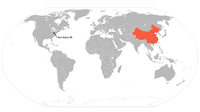 Datebook is your source for information about important business events going on in the greater Ann Arbor area.
FEATURED EVENT:
Today: China Strategy: Expanding Your Sales & Business Activities in this Critical Market. Presentations from 9-11:30 a.m., chance to speak with presenters from 1-4 p.m., by appointment. Ann Arbor SPARK Central, 330 E. Liberty St., Ann Arbor. This event's focus is on exporting to China, and expanding business activities there, not inward investing or sourcing from China. The purpose is to help companies understand what they need to consider in formulating their business strategy for China, and to identify resources to help in this process.The speakers list includes several prominent China experts. Free. More info: http://www.annarborusa.org/events/details?e=11943.
Other upcoming events:
• Today: Women's Exchange of WashtenawSummer Shebang Networking Under a Tent. 5-8 p.m. Matthaei Botanical Garden auditorium, 1800 N. Dixboro Road, Ann Arbor. $20 (includes parking). More info and registration: http://wxwbusiness.com/events/2012/evening-networking-under-a-tent/.
• Tuesday: Building Business Relationships Breakfast, sponsored by Saline Area Chamber of Commerce. 7:30-9 a.m. Brecon Village, 200 Brecon Drive, Saline. Cost: TBA. More info: 734-429-4494 or https://www.salinechamber.org/?module=Home.
• Wednesday: The Reluctant Networker: Thriving at the Networking Event, with Greg Peters. 8-10 a.m. Sandler Training Center, 501 Avis Drive, Ann Arbor. $30 until June 24, $40 thereafter. Registration: http://trn-thriving-1306.eventbrite.com.
• Send unique, one-time business events to business@annarbor.com. Sign up for the weekly Business Review email newsletter here.