Posted on
Mon, Jan 28, 2013 : 5:56 a.m.
Xtreme Bounce Zone tries new ways to pump up business
By Angela Smith
Children's playtime business Xtreme Bounce Zone is rolling out some new strategies to attract young bouncers and during the wintry months and reverse a slide in sales.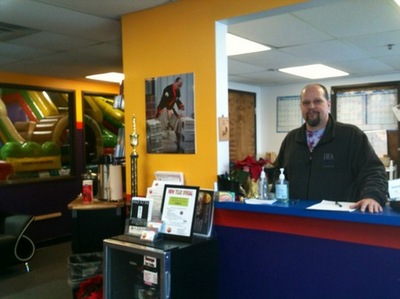 Angela Smith | For AnnArbor.com
Owner
Dean Wainwright
says he's hoping to attract the preschool set to the newly offered open bounce sessions that began this month. The sessions are on Tuesdays and Thursdays from 10 a.m.-1 p.m. and cost $5 per preschool aged child.
Wainwright recently made other upgrades to the business, located at 82 Aprill Drive in Ann Arbor. The lobby area gained new faux leather couches and seating areas earlier this year that Wainwright says have been popular with parents, who are also offered free coffee and WiFi as their children bounce.
"Business is down about 10 percent from last year this time," Wainwright said. He is hoping that the new open sessions, combined with a direct mail campaign, will provide the boost the business needs.
Wainwright says he does not advertise.
"It has never worked well for us," he said, "we use the Internet and direct mail or word of mouth to get new customers."
Manager Candice Wiesner said that business dips during the winter.
"In the summer, open hours are what drive most of our business, however fall, winter and spring all bring in mostly parties."
Xtreme Bounce Zone offers birthday party packages beginning at $200, and in peak season can book 13 to 15 parties in a weekend. But the business is still not a great profit maker for Wainwright. He opened Xtreme Bounce Zone seven years ago, sharing space with his karate school, A2 Martial Arts.
Wainwright, a 6th-Degree Black Belt in both Tae Kwon Do and Hapkido, opened A2 Martial Arts as the Dexter School of Martial Arts in 2001. He moved both businesses to the current location several years ago.
Xtreme Bounce Zone houses six large inflatables, including a 52-foot obstacle course, and an 18-foot giant slide, which Wainwright says he replaces about every year.
"We are happy with the space but do not like the location," Wainwright said. Parents who attended the first week's open bounce hours told him that the space, hidden behind a KIA dealership and next to Planet Rock, was difficult to find.
"It may be hard to find us but it is worth the effort!" Wainwright said. But he is already thinking ahead to other strategies that could improve business, like a move to a more visible location. "We are hoping to move to Jackson Road in the next few years."