Posted on
Fri, Nov 25, 2011 : 3:48 a.m.
Black Friday crowd gets younger: Midnight store openings draw Ann Arbor area youth
By Lizzy Alfs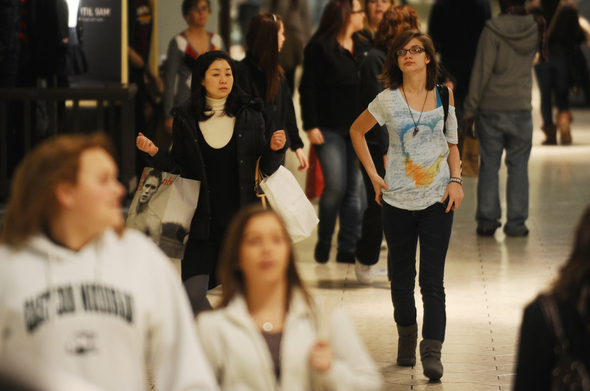 Melanie Maxwell | AnnArbor.com
(See related story:
Thousands of Ann Arbor area shoppers line up for midnight deals as Black Friday arrives
)
Eastern Michigan University student Nick Ceccolini didn't have late night plans Thursday after Thanksgiving, so he decided to check out the Black Friday scene at Ann Arbor's Briarwood Mall for the first time with his friends.
"I'm in college. I'd definitely be awake at midnight anyway," he said. "So I thought I might as well come here and check out what they have. It's fun to people watch, too."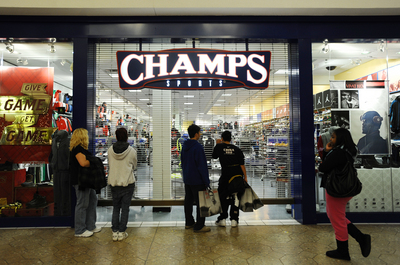 Melanie Maxwell | AnnArbor.com
Ceccolini's sentiment was echoed by a lot of shoppers who came out for Black Friday shopping on Thursday: Stores that opened at midnight for the first time had extra appeal for young people.
Ida Hendrix, general manager of Briarwood, told AnnArbor.com at 12:15 a.m. that the scene was already dominated by a younger crowd.
"It feels like everyone is 25 [years old] and younger," she said. "Basically, I see a younger group of shoppers here than past years."
For the first time in Black Friday history, many big-box stores and retailers in Briarwood opened at midnight or earlier. Toys "R" Us and Walmart started rolling out Black Friday deals as early as 9 p.m. Thursday night.
By 12:01 a.m. Friday, hundreds of shoppers swarmed Briarwood Mall to take advantage of Black Friday markdowns. Many of the shoppers were groups of young adults having their first Black Friday experience.
The same was true at the Target store on Waters Road and Best Buy on Lohr Road, where hundreds of people lined up - or even camped since Wednesday - to get in the stores at midnight.
A group of 18-year-old Ann Arbor high school students smoked hookah and watched the Detroit Lions game on a portable TV inside their tent outside Best Buy.
But for 16-year-old Melanie Kalu, her first-ever Black Friday adventure wasn't too thrilling. Kalu got in line outside Macy's at 10 p.m. on Thursday.
"I don't really think this is a big deal," she said. "I just came here to see what they have. I think it's a lot of hype, especially with people my age. But midnight is better because who's awake at 4 a.m.?"
For Huron High School student Thomas Rozycki, only one thing could drag him to the mall on a Black Friday: The new Nike Air Jordan III Black/Cement shoe that was released at midnight.
Rozycki, along with about 45 other people who were mostly young adults, waited in line starting as early as 6:30 p.m. to get the highly anticipated shoe. Rozycki was one of the first people to get them from Champs Sports, which would only let one or two people in the store at a time to control the crowd.
"This was worth it," he said. "Pretty soon, on the Internet, these will be going for $300. But I don't know if I'll sell mine or not."
Lizzy Alfs is a business reporter for AnnArbor.com. Reach her at 734-623-2584 or email her at lizzyalfs@annarbor.com. Follow her on Twitter at http://twitter.com/lizzyalfs.