Posted on
Fri, Feb 25, 2011 : 5:50 a.m.
Ypsi-Arbor Lanes closing means buyer must be found for landmark sign
By Paula Gardner
News that Ypsi-Arbor Lanes bowling alley will close May 1 raised a pressing question among readers - kegelers and non-kegelers alike: What will happen to its landmark neon sign on Washtenaw Avenue?
The answer: At this point, it looks like it'll be for sale as part of the business' liquidation.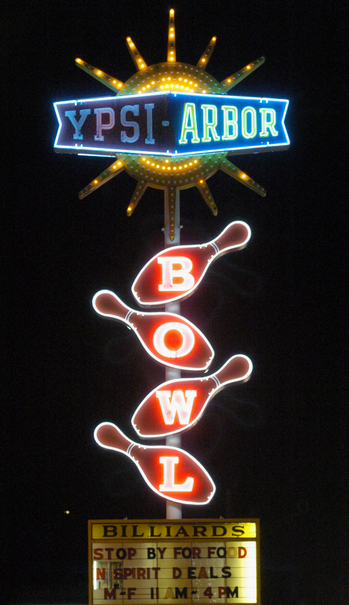 AnnArbor.com files
Rich Glomb
, an owner of the bowling alley, says he's fielded many calls from people asking about the sign's future and expressing hope that it remains near t
he corner of Golfside
.
"They don't want it to go away," he said. "They want to keep it somehow because it's so beautiful."
The building that houses Ypsi-Arbor Lanes is owned by Frankel Associates and it has been a bowling alley since 1964. The current operators took it over in 1971, Glomb said.
They're planning for the closing by now, setting up an online liquidation auction that will run throughout May, Glomb said.
All of the interior fixtures and the sign belong to Ypsi-Arbor Lanes and not the building owner, he added. And he expects the sign to be a part of the liquidation.
He hopes that's a step toward preserving it. For 47 years, the sign has welcomed bowlers inside and stood as a landmark along Washtenaw Avenue, just east of the border between Ypsilanti and Pittsfield townships.
"The sign is what makes Ypsi-Arbor Lanes so unique from the road," he said.
Glomb said the distinctive sign has attracted attention for decades. It's been featured in newspaper articles and a national bowling magazine, and visitors from out of town "feel like they're entering a part of the Las Vegas 'Strip,'" he said.
"It's pretty impressive on a nice, dark evening when it's clear outside and you're heading east on Washteaw," he said. "You come around the little bend and you can't help but see that sign."
While the fixtures inside Ypsi-Arbor will find new homes - and possibly new uses, as in the case of the wood that makes up the 40 lanes - it may not be that easy to find a new home for the sign.
There's a bowling theme in the letters inside the pins. But it's also geography-specific and seems to belong in the Ypsilanti-Ann Arbor community, Glomb said.
Some readers have contacted the American Sign Museum in Cincinnati about acquiring it. Tod Swormstedt, founder of the museum, said in an email that the not-for-profit may be interested in acquiring it.
"It'd be shame for the sign to be scrapped," he wrote.
Finding a new home for the sign needs to take place by the May 31 auction close, Glomb said.
He's expecting it to attract more attention over coming months, and he welcomes suggestions for its future. He said he joins fans of the sign in hoping that it survives.
"I think it would be a travesty to pull a bulldozer and knock it down, and throw it into the dump."
Paula Gardner is Business News Director of AnnArbor.com. Contact her at 734-623-2586 or by email. Sign up for the weekly Business Review newsletter, distributed every Thursday, here.