Posted on
Sun, May 16, 2010 : 6:06 a.m.
Ypsilanti landmark Materials Unlimited's architectural antique business and building listed for sale
By Janet Miller
From porcelain doorknobs to an imposing carved marble Empire-style antique mantel, Materials Unlimited has been furnishing homes and businesses with architectural antiques for four decades. Now, this iconic downtown Ypsilanti business and building are listed for sale.
The three-story building on the eastern edge of downtown and adjacent to the Huron River has always seemed more like a museum than retail space: There's the rare jeweled Tiffany glass window, a beveled mirror with intricately carved acorns and oak leaves out of the 19th Century Cincinnati woodcarvers group, a Biedermeier bookcase from 1830s Austria.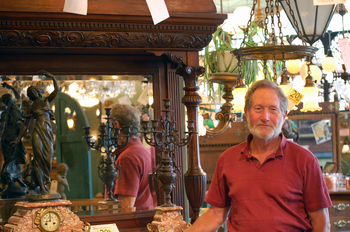 But owner Reynold Lowe said it's time to return to where he began: art and sculpture. He listed the business he started nearly 40 years ago on North Main Street in Ann Arbor on April 22, his 66th birthday.
The listing price for the building is $845,000, said Realtor Jackie Wright with the Charles Reinhart Company. The asking price for the business, inventory and database is $2 million.
Lowe would like to sell Materials Unlimited as a package - the building, the business and the inventory - and he hopes a new owner would keep his five full-time and three part-time employees. But he's also willing to sell the business separately, he said.
It would be a huge loss if Materials Unlimited left Ypsilanti, said Steve Gross, longtime Ypsilanti auctioneer and antiques expert. Lowe and his store have a national reputation, and it's been a landmark destination downtown for most of its history.
"Back before the housing industry went bust, people would fly into Metro Airport from around the country and take an airport limo just to shop at Materials Unlimited," Gross said. "I used to see limos parked outside. They are not only one of the best for architectural antiques in the nation, they were one of the first. They've always had jaw-dropping pieces."
But even with tougher economic times, Materials Unlimited remains a major draw, Gross said. "Everyone in the building trades is well aware of them. It's a must stop for anyone building anything."

The 1920s era three-story Art Deco building that houses Materials Unlimited is a piece of history, itself. Built as an auto dealership, it became a USO hall during World War II and then a Moose lodge, with a band stand and dance floor. Lowe bought the building from the Moose lodge in 1980.

With its high ceilings, wall of glass windows that bring in natural light and 16,800 square feet, it made an ideal showcase for Materials Unlimited, Lowe said. It has housed 12-foot fireplace mantels, entire staircases, architectural columns and a fairyland of restored antique lighting.

"Throughout the building, you see many different periods," Lowe said. "There's Victorian, English, European, American and English Arts and Crafts."
There are the clean lines of a Prairie-style glass window and the American art glass on light shades that show two distinct looks, depending if the light is on or off. Pieces from the 17th Century to the 1950s are represented, but most come from 1850-1935, Lowe said.
The lighting, hung from virtually every square inch of the three floors of ceiling, has been a Materials Unlimited hallmark. From kerosene to Victorian to Neoclassical to Art Deco and 20th Century Art Modern, Materials Unlimited has more than 1,000 lights.
The lights illuminate a showroom floor of other architectural antiques: Doors (including a confessional door), stained glass windows, furniture and mirrors share space with large architectural pieces such as a late Victorian built-in buffet from the home of a Grosse Pointe Farms physician and a widow's walk, a cast-iron rooftop railing from 19th Century North America.
Over the years, Lowe has found his architectural antiques inside buildings ready to be demolished, in attics and at auctions and estate sales from Chicago to New York.
Materials Unlimited has always been a destination store, Lowe said.
Customers come from miles away looking for anything from the right door knob to a fireplace mantel. Some are restoring old homes and want to stay true to the period. Others are building contemporary homes but want a piece of history to be included. Many come with imaginations for ways of reusing salvaged parts of buildings that didn't stand the test of time: There's upholstered seating pulled from the old State Theater in Detroit that can be used for home theater seating and alter railing from a church that could be used a wainscoting, Lowe said.
"We have an extensive website, so we sell all over the world," Lowe said. "We go to great trouble to tell you what we know about a piece: Its dimensions, its age, the collection it came out of, the country."
The building has a number of potential uses, Wright said. It could be mixed upscale retail, similar to Ann Arbor's Kerrytown, or it could be mixed use of lofts or retail. While the building was listed last month, the business will be marketed nationally, she said.
Still, Lowe said he hopes someone will buy the business and building together.
"It should be someone who has an interest in history, who loves architecture and the decorative arts. Someone who is passionate about these things," he said. "And maybe a little eccentric."
Janet Miller is an Ann Arbor-based freelance writer.