Posted on
Wed, May 22, 2013 : 5:58 a.m.
$4 million Walmart expansion approved in Ypsilanti Township
By Tom Perkins
The Ypsilanti Township Walmart will be a Walmart Supercenter by the end of the year.
At its meeting Monday, Ypsilanti Township's Planning Commission unanimously approved plans for a 38,000-square-foot addition onto the store at 2515 Ellsworth Road.
The expansion will primarily make room for a full grocery section on the west side of the building, which takes up 13 acres in the Roundtree Shopping Plaza.
The $4 million construction project is expected to begin in August and is targeted for completion within 120 days.
Plans for the 104,000-square-foot building also call for an expanded parking lot, renovations and improvements to the façade, an additional entrance and upgrades to the garden center.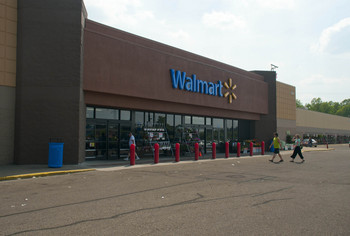 Tom Perkins | For AnnArbor.com
"When the development is completed it will look like a new Supercenter building, so it is a good plan for the existing building," Robert Matco, a civil engineer for Walmart, told the planning commission.
Township planning coordinator Joe Lawson said Walmart chose to expand the store because of its high customer volume and demand.
The nearest Super Walmarts are at 45555 E. Michigan Ave. in Canton; on Belleville Road in Belleville; and at 7000 E. Michigan Ave., in Saline.
The next nearest grocery store is the Meijer at the intersection of Carpenter and Ellsworth roads, in Pittsfield Township. The plaza once held a Busch's before it changed to a Sheena's Market. That shut down several years ago.
Lawson said Walmart had not yet provided information on how many jobs will be added.
"This office and our elected leadership is excited to see the expansion," Lawson said. "This tells us that they obviously see a benefit to being here, and the substantial investment shows they're happy to be here."
Tom Perkins is a freelance reporter. Contact the AnnArbor.com business desk at business@annarbor.com.