Posted on
Fri, Apr 27, 2012 : 2:59 p.m.
Ypsilanti Township industrial horticulture supplier building 12,000-square-foot warehouse, adding production line
By Tom Perkins
Purchase a tray of flowers from Home Depot, Lowe's or any independent garden store and there's a good chance the tray the young plants sit in was produced in Ypsilanti Township.
The Blackmore Company, at 10800 Blackmore Ave., manufactures millions of the trays a month and is one of the nation's largest producers of seeding machines, fertilizers and other equipment for the commercial horticulture industry.
Representatives there say the company helped revolutionize that industry throughout the 1980's and 1990's, and the company is continuing to grow. On April 23, the Ypsilanti Township Board of Trustees unanimously approved an industrial tax exemption worth $322,000 over a 12-year period.
That will allow Blackmore to build an approximately 12,000-square-foot warehouse and add a production line that will create a new position for each of the three shifts it runs.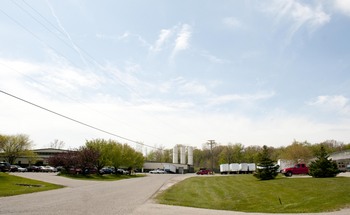 Tom Perkins | For AnnArbor.com
"We're doing well and we hope to add more with our next phase," Blackmore Treasurer Doug Hudson told the Board of Trustees.
Blackmore opened in the city of Ypsilanti in 1966 before relocating to Ypsilanti Township in 1988. Staff has jumped from 35 to 65 during that time and they have never laid off an employee.
In 1971, the company began producing seeding machines that the average grower could afford to buy. At the time, demand for flowers and plants exceeded the supply, and the machines and trays allowed growers to change their growing methods so that they could produce more crops.
Greenhouses previously used a bare root transfer method. That involved sprinkling seeds throughout a large pot and carefully transferring the sprouting plants to a new container to be sold.
The plug system Blackmore developed created machines that place a single seed into a small, isolated cell inside a larger tray so that one plant grows in each. That's how plants are sold today, and a tray can have from 36 to 800 cells.
It provides growers with several advantages. The plants grow faster because there is less competition. The system also eliminates transplant shock, which could delay a plant re-establishing itself by 10 days. And plants have a much higher survival rate in the plug system.
That means the amount of time needed to sow a plant is reduced, allowing greenhouses to lower heating and labor costs.
Moreover, growers can fit three growing seasons into one. Greenhouses in the north can now start seeds in October and have flowers and plants ready to ship south to Texas when spring hits in February. As spring moves farther north, so do northern states' greenhouses' shipments.
Blackmore Vice President David Steiner explained that greenhouses in Texas can't ship product north because once a greenhouse heats up it is mostly cost prohibitive to cool it, so they face a much shorter season.
That led many greenhouses to open in the north. Kalamazoo County holds one of the largest concentrations in the country, Steiner said.
Ypsilanti Township is an ideal location for the company because it allows them to ship to big populations centers in the Midwest and east coast and offers a close proximity to producers.
"Our location allows us to service a large portion of the country," Steiner said. "And if you look at the Detroit, Toledo and Kalamazoo area, there are a lot of greenhouses and production in those areas, so it's a good fit."
The new warehouse will allow the company to inventory products so it can ship on demand.
But revolutionizing the industry and intersecting supply and demand has brought new challenges.
"We're in pretty good shape, but the industry as a whole has plateaued and that's a concern," Steiner said. "We need to get people to buy more flowers and plants."
Township officials are pleased to see Blackmore expanding in Ypsilanti Township.
"I think it' s exciting," Township Treasurer Karen Lovejoy-Roe said. "The alternative was for them to go forward with building in Van Buren Township. As much as we love them, we're glad Blackmore decided to stay and expand … and we're really glad the investment was made in Ypsilanti Township."