Posted on
Tue, Feb 15, 2011 : 10 a.m.
Ypsilanti's American Broach seeks tax incentives for $25M R&D, manufacturing expansion
By Paula Gardner
A $25 million investment in the expansion of an Ypsilanti tool manufacturer will result in up to 43 new jobs and a new research and development center.
American Broach, based at 575 S. Mansfield, hopes to use state and local tax incentives to help fund the expansion and job growth, company president Ken Nemec said.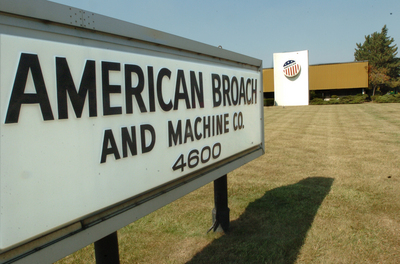 AnnArbor.com files
Nemec will appear before the Michigan Economic Growth Authority in Lansing this morning, seeking a state tax credit of $572,782 over 7 years, according to state officials.
Ypsilanti City Council also will weigh real and personal property tax abatements at its meeting tonight.
The state and local tax incentives will help the longtime local leaders in a struggling U.S. industry maintain its hold on the marketplace and also pursue innovations expected to help it grow.
"We think of ourselves as survivors," Nemec said, describing American Broach's efforts over recent years.
The company produces intricate cutting machines that produce gears, with the auto industry making up 65 percent of its $4-5 million revenue base. The defense industry accounts for up to 15 percent of sales, while agricultural and general use comprise the rest.
But it's also an industry that's making parts similar to the ones generated decades ago, even as innovations grow in the sectors that make up its customer base. Cost pressures from customers have driven margins to the edge, Nemec said, and the credit crisis erased lines of credit, killing American Broach's international sales.
In that climate, Nemec said American Broach's parent company, QC American, owned by a Chinese investment firm, sought to create an R&D facility in Toronto with the goal of building the end products in China.
Nemec saw the opportunity to bring both the research and manufacturing to his Ypsilanti facility, and said he lobbied for months and wrote a business plan, urging the corporate officials to put the R&D center "in the heart of the gear industry."
"We lead the world in gearing systems," he said. "…It would be better to do it all in one facility."
With the expansion, the company will be able to build prototypes and test cutting tools, eventually creating new products at a lower cost per product.
"The demand is tremendous and growing," Nemec said. "… None of the (other American) suppliers have had the wherewithal to invest in innovation."
But the company that can produce new products that aid automakers to produce transmissions that run smoother and longer on less gasoline will emerge as an industry leader, Nemec said.
The investment in the Ypsilanti R&D center should put American Broach in that position, he said.
American Broach moved in 2008 from its decades-long home on Jackson Road to the 22,580-square-foot facility on South Mansfield.
At the time, it hoped to grow its revenue from $4.5 million to $6 million, and it hoped to grow its workforce from about 28.
Today, it's showed a profit for the last three years - and Nemec said he's fought during the downturn to keep his workforce, which today numbers 31 full-time and 7 part-time.
The average wages at American Broach are $19 per hour, $21 per hour for skilled trades, Nemec said, and employees get full benefits.
Paula Gardner is Business News Director of AnnArbor.com. Contact her at 734-623-2586 or by email. Sign up for the weekly Business Review newsletter, distributed every Thursday, here.