Posted on
Tue, Feb 12, 2013 : 5:58 a.m.
Ypsilanti's Gilbert Residence adapts and expands to accommodate baby boomers
By Tom Perkins
Every day at work, Gilbert Residence CEO Derek McGill sees the challenges presented by dementia, but he also learned the challenges it presents to patients' families after his step-father lived with Alzheimer's for eight years.
As the disease progressed, it left McGill's step-father, Matthew Mischakoff, unable to perform basic tasks like eating on his own, and it became unsafe for him to remain at home where his wife ran a day care.
The family placed him in the memory care program at the Gilbert Residence, where he lived until he passed away on Jan. 24.
In 2010, the Gilbert Residence recognized they faced the challenge of staying relevant as a new and larger generation of Americans needs some degree of assisted living.
The number of elderly adults like Mischakoff needing memory care assistance is expected to triple over the next four decades, and McGill said assisted living facilities are also discovering baby boomers expect more from assisted living than the generation now being served.
The projection drove the Gilbert Residence board to decide in 2010 to invest $8 million in building a large, new memory care building. They also decided to develop a new commons area with perks like a movie theater and bistro, and to give their remaining assisted living facility a facelift that will improve residents' experience.
"We need to do this because the boomers are getting to that age where they will start to experience these elderly related needs and there will be so many more people above the age of 65," said McGill.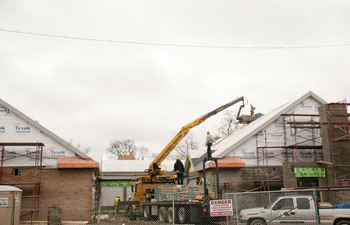 Tom Perkins | For AnnArbor.com
"We're pretty excited about everything and our goal, of course, is to remain relevant as one of only two non-medicare, non-profits in the state like this that I'm aware of," he added.
The facility currently has a capacity of 72 residents, with 32 beds reserved for basic nursing care, 40 for assisted living and 10 specifically for middle to late-stage dementia residents.
When completed this July, Gilbert Residence will boost its capacity to 90 beds, and have a total of 28 dedicated to memory care in a new 14,200-square-foot building.
That wing is taking shape next to the current 35,000-square-foot building at 203 S. Huron St. and will house current residents once it's complete. Renovations on the current building will provide an update that will make it ADA compliant and open up space to make it more accessible to people with walkers and wheelchairs.
Plans also call for a commons area with amenities like a 20-seat movie theater, a bistro open to residents and their families and a pool hall/game room that will offer components attractive to kids and younger people.
"We want the space to offer things to residents and families that they can't do out in public, but we also want it to be inviting for the younger population. They tend to be a little more frightened of coming into nursing homes," McGill said.
Gilbert Residence is operationally different from most traditional nursing homes and assisted living facilities in that it is non-skilled and is able to offer services at around 70 percent to 80 percent of the cost of skilled nursing facilities, McGill said.
Gilbert Residence is not Medicare certified and does not do rehabilitation, so it is not seen as a competitor to other facilities in the region, he said.
While there are plans for a sparkling new facility and fresh amenities, McGill said he doesn't anticipate the cost of service rising much.
"That's what the goal is - it's multifaceted. We're trying to provide a great service to customers, but remain relevant and not price ourselves out of our current market. We take great pride (on serving the community), east of (U.S.) 23 and doing something great for Ypsilanti and putting money back into this community."
When complete, the Gilbert Residence will also boost its staff levels from around 90 to more 100 employees.
McGill said the project has exclusively been one involving local companies from the financing through the Bank of Ann Arbor to the architectural work by Ypsilanti native Bob King to Ann Arbor's Spence Brothers Construction.
The Gilbert Residence purchased the new property from the American Legion in 2010.
Tom Perkins is a freelance reporter for AnnArbor.com.