Posted on
Sun, Dec 18, 2011 : 5:58 a.m.
Ypsilanti's Model Cave finds success in an old hobby
By Tom Perkins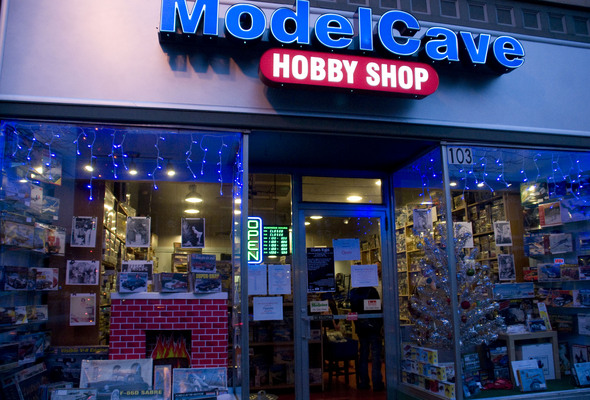 Tom Perkins | For AnnArbor.com
Jon Cassino believes his hobby shop is one of the very few, if not the only, store of its kind in the state that has opened this year and caters to modelers.
And Cassino says he believes Model Cave, at 103 W. Michigan Ave. in downtown Ypsilanti, will be a success for a simple reason: He and his partner, Melissa Barnes, have created a rare store that model enthusiasts from around the region won't find anywhere else.
"Our philosophy is: If we're going to do it, we're going to do it right," Cassino said. "If you're a modeler, when you walk into the store, you pretty much found heaven."
The reason the shop is already seeing brisk business with customers coming from as far away as Lansing, Kalamazoo and Toledo is because modelers find such a vast selection of kits, supplies and accessories.
Stacked floor to ceiling with small, rectangle boxes, Model Cave offers 6,500 model kits including cars, ships, airplanes, spacecraft and more. The store stocks science fiction models, such as Star Trek, or Marvel models like Spider-Man. Zorro models, alien models and a pumping model of the human heart all share space on the shelves.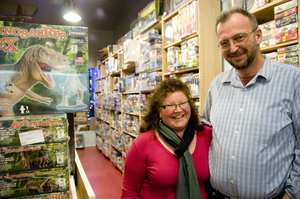 Tom Perkins | For AnnArbor.com
Some of the kits are new, while many are vintage and one of a kind. Cassino will order those not available on Model Cave's shelves.
The shop also carries a wide variety of supplies, including four lines of paint, glues, detailing accessories, air brushes and anything else Cassino says a serious or casual modeler might need.
When customers come in and find a rack full of a finish that makes plastic models appear like metal, Cassino said they "stop, stare and their jaws drop." Barnes added they regularly hear from customers that other hobby stores say they simply can't move the products Model Cave has, and that's in Barnes and Cassino's advantage.
"We have a lot of accessories - the works," Cassino said. "We're pretty much the only ones doing this around here."
Hobby stores in Michigan have suffered under what Cassino said is the perfect storm. The economy has played a large role in closing many shops, as has the Internet, and most of those remaining have moved toward stocking radio-controlled airplanes and cars. That has left modelers with few retail options to choose from.
Cassino said the store has yet to establish an Internet presence, though plans are in the works to build a website after the holidays. But they are successful even without one.
"There are a lot of people who like to touch, feel and look at stuff before they buy it," he explained, adding that a model display case in the store holding customers' models includes pieces from 8 year old kids up to middle-aged engineers.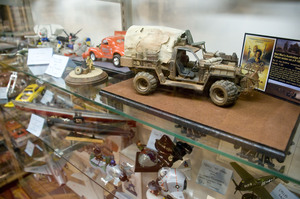 Tom Perkins | For AnnArbor.com
Business is beginning to hum solely on word of mouth and the store's accessibility to people from around the region who appreciate the store enough to take long trips to shop there, Cassino said.
"We're able to do it because we found a special niche that is popular and we're in a very good location," he explained.
Cassino and Barnes chose Ypsilanti for several reasons. It has a central location and is easier to access than downtown Ann Arbor. Like many others who have established businesses there in recent years, Cassino, who bought his first home in Ypsilanti, said he also appreciates the tight-knit business community.
"Everybody here supports everybody else, and it's just a phenomenal place to do business," he said.
The store is an especially good fit in Ypsilanti, which is full of people who appreciate classic cars or have a connection to the war-themed models sold there. On a recent afternoon, Barnes said customers regularly come in and find models of the first car they owned or the bomber or ship that their parent served on in World War II.
Within minutes, a customer came in and pointed to a vintage car he used to own.
"It's thrilling,' Barnes said.
Model Cave's normal business hours are from 11 a.m. to 8 p.m. Wednesday through Saturday and noon until 5 p.m. on Sunday. The store is also open on Monday and Tuesday through the holidays. It also has a Facebook page.