Posted on
Thu, Jan 5, 2012 : 5:58 a.m.
Downtown Ypsilanti's Wolverine Grill could reopen in the next month after renovations
By Tom Perkins
Ypsilanti resident and chef Kevin Hill said some of his best years were spent getting experience in culinary hot spots like Maui and California's Monterrey Peninsula. He has catered $20,000 feasts for the wealthy, held a corporate position at Olive Garden, and worked in kitchens at high-end restaurants across the country.
Most recently, he sat on the Ypsilanti Downtown Development Authority Board after retiring from teaching culinary arts at Howell High School.
Hill said he has seen the kitchens of nearly every type of restaurant imaginable, and he is now taking his lifetime of experience and applying it in downtown Ypsilanti as he reopens the Wolverine Grill.
The diner, at 228 W. Michigan Ave., closed in October but has otherwise offered up food from its lunch counter under several names since 1963. Hill said he signed a lease to reopen the restaurant, which had been placed up for sale in October along with the structure itself and two apartments and office above the restaurant.
The Wolverine, owned by Greg Batianis since 1963, has been located on West Michigan Avenue since the 1930s. Batianis retired in 2008, and his daughter, Debbie, had been operating the restaurant. Due to health complications, the family had to close the business on Oct. 19, Stachler said at the time.
Hill said he couldn't give a specific timeline on when the Wolverine's doors may reopen, but he has begun interior renovations and is hoping to be ready in about a month.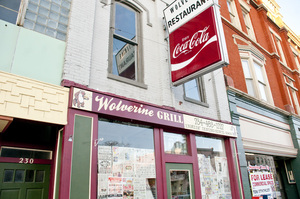 Tom Perkins | For AnnArbor.com
"This is right in my wheelhouse," he said. "The Wolverine has been an operating institution in Ypsilanti forever. I'm a big time advocate of downtown and felt like it was a good idea to continue the tradition. The timing seemed good and things fell into place properly, so it will be fun."
While customers can expect the same type of fare as the Wolverine, Hill said he's planning some enhancements to the menu and overall quality.
The details are still being determined, but the breakfast plates, burgers and many diner standards will remain. But they will be done with a different presentation and local ingredients, Hill said, and he wants to "push the envelope" with new takes on old sauces like hollandaise.
"I don't want have to have seaweed or anything like that, but we will have a different presentation of pork chops, for example," he said.
"We want to offer good food at reasonable and popular prices. In other words, we're not shooting to be a high-end place," he added.
The interior will also likely be spruced up to "give it a little more life," but Hill said he intends to maintain the Wolverine's character. The 44-seat diner, which is retaining the Wolverine name, will also feature ice cream specialties during the summer months.
"It will really fit in nicely to the downtown catalog," he said.
The new Wolverine will also incorporate Michigan's rich music history. Hill is partners at the AM 1700 radio station and the Michigan Music Hall of Fame, which share an office on Washington Street. Patrons can expect selections from Michigan artists on the stereo and photos or other memorabilia on the wall.
But, like the rest of his ideas, Hill said that element of the new Wolverine is continuing "to evolve gently."
The Wolverine's renovation and reopening comes around the same time as the announcement of a new Italian restaurant scheduled to open Washington Street in April.
The former Theo's will soon reopen as The Wurst Bar, and Red Rock Downtown Barbecue owners have said they are inching closer to opening.
"The thing is, if we've gone through the absolute worst time economically, then downtown Ypsilanti held together pretty well and things seem to getting better here," Hill said. "Downtown really could stabilize and 2012 might be a pretty good year."
Tom Perkins is a freelance reporter for AnnArbor.com.