Posted on
Mon, Nov 12, 2012 : 5:58 a.m.
Zeeb Road Big Boy begins drive to aid superstorm Sandy victims, local community
By Angela Smith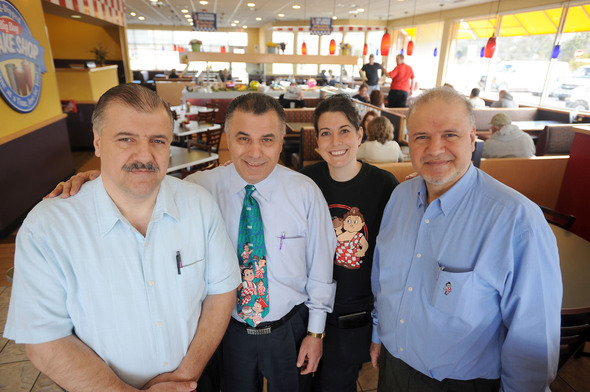 file photo
"I feel so bad when I see the people (affected by superstorm Sandy), we have to get together and do something,"
Abdul Karkouli
explained to his staff after catching news stories about the devastation caused by the storm that ripped through the east coast last month.
He and his two brothers, Fred and Andy Karkouli, own the Big Boy on Zeeb Road. The restaurant is hosting a week-long fundraiser for victims of the storm, beginning Monday.
Abdul, who has lived in this country for 37 years, speaks passionately about his desire to help out and get involved. ""This is a very important issue. I see the news, and realize we need to volunteer, not wait to be ordered to help. There are people who have lost their lives; there are people who have lost everything, at the least we can feed them."
Karkouli was born in Syria and is no stranger to how destruction can rip a country apart. "This is what makes this country great — regardless of party, we are American. It's a big family that we are a part of. We need to work together and help each other. This is how America was built."
Ten percent of Big Boy's profits will be donated to storm victims thorough the American Red Cross. The Karkoulis and their staff have been donning Red Cross T-shirts and talking to regular customers, urging them to come and donate or dine in this week. "We hope you have a big appetite to help," the marketing fliers read.
Karkouli says he's seen other restaurants donate the proceeds from a few hours, but it was important to him to collect donations for an entire week. "It will not cover all of the loss," he realizes, but he is hoping their efforts will inspire others to help however they can.
Big Boy manager Nicole Orfin says she feels lucky to be working along with the Karkouli brothers. The cooperative spirit at the restaurant is strong and growing. This weekend, Orfin said the restaurant is expecting a visit from Food Gatherers of Washtenaw.
"Starting this weekend we will be a drop off point for pantry items that will be used right here in the area," Orfin said. "The food collection will continue through January, at which point the restaurant may decide to continue as a permanent drop off station for donation of perishable goods.
"We really want to be involved in the community. We are so very excited for both events!"
To participate in either campaign, visit Big Boy at 497 North Zeeb Road in Scio Township, during open hours from Nov. 12-19.