Posted on
Thu, Mar 24, 2011 : 2:45 p.m.
Zeeb Road Big Boy's new owners bring 35 years of experience, Mediterranean additions to menu
By Paula Gardner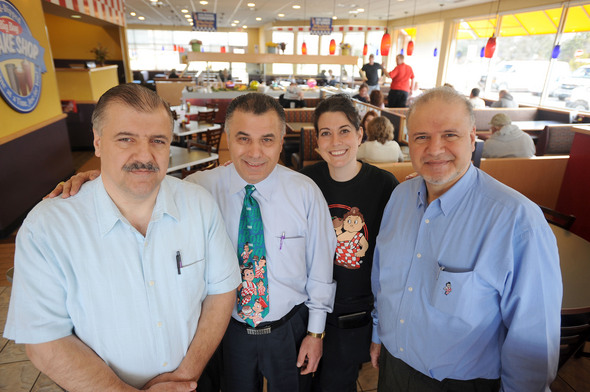 Angela J. Cesere | AnnArbor.com
Three brothers with 35 years in the restaurant business are the new franchise owners of the Big Boy restaurant on Zeeb Road west of Ann Arbor. The location — just north of I-94 in Scio Township — had been a Big Boy corporate store since 2009, when the Warren-based company took it over following disputes with the former franchisee. This month, Fred Karkouli and his brother bought the franchise, and they've spent the last three weeks taking their initial steps to build the business. They also own a Big Boy in Rochester Hills.
"It's the number 1 Big Boy," Karkouli said. The trio started to pursue the franchise early this year, said Nicole Orfin, an assistant manager who moved with the Karkoulis from the Oakland County store to the Scio Township location.
Angela J. Cesere | AnnArbor.com
They'd been looking to expand, and decided that the area — close to the highway and west of Ann Arbor's population center — made it a good bet. The restaurant had been a high-volume store, but the new team sees room to rebuild traffic. They also plan some changes, such as additions to the salad bar. "We've redone the entire salad bar," Orfin said. One highlight that's unique to the Karkoulis: Homemade Mediterranean dishes, such as hummus and tabbouleh. The soup bar will include traditional Big Boy favorites like cabbage soup and cream of broccoli, with the addition of Syrian chicken noodle and vegetarian lentil. They're not dishes typically found at a Big Boy, but Orfin said the corporate headquarters has supported the change because of their success with customers. "They allow us some flexibility because of our previous track record," she said.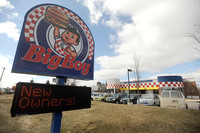 Angela J. Cesere | AnnArbor.com
However, she added: "We still have all of the classic Big Boy items." Other changes include expanding the weekend breakfast buffet and adding a children's buffet on Tuesday, when kids 10 and under can get their choices for a meal along with dessert and a drink for $5.99. Staffing is about 30, with most employees retained. "We asked everyone to stay on with us," Orfin said. "We have brought a few new people on board." Customers won't see many other changes, Orfin said. The building is in good condition and it represents the chain's newer look. The only goal for the new owners, Karkoukli said, is to build repeat traffic through customer service, new specials and quality food. "We're just hoping to make it into a stronger (Big Boy)," Orfin said.
Paula Gardner is Business News Director of AnnArbor.com. Contact her at 734-623-2586 or by email. Sign up for the weekly Business Review newsletter, distributed every Thursday, here.