Posted on
Sun, Mar 17, 2013 : 5:58 a.m.
Zingerman's restoring historic barn near Dexter for farm dinners, events space
By Lizzy Alfs
To drivers traveling on Island Lake Road near Dexter, it might look like one of the county's most historic barns was torn down in recent weeks.
But in five months, the barn, which likely was constructed in the 1830s, will be re-erected and given new life as an events space for Zingerman's Community of Businesses.
"This place has a very long legacy in this community," said Alex Young, managing partner of Zingerman's Roadhouse in Ann Arbor. "(Our) vision was built around using the barn to celebrate agriculture as it becomes sustainable…it just made all the sense in the world to restore it and have another hundred years or more ahead of it."
Last summer, Zingerman's purchased the 27-acre site at 8540 Island Lake Road from the estate of Frances Hoey for $475,000, property records show. Young said he had been eyeing the property for years since it abuts his Cornman Farms operations, which produces vegetables, dairy and meat that are sourced to Zingerman's Roadhouse.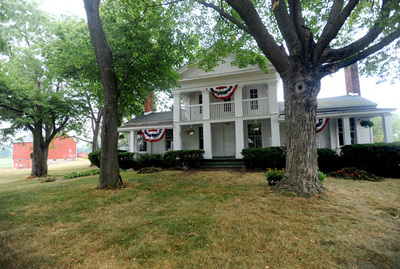 AnnArbor.com file photo
Now, Young and a team of people are renovating the existing house on the Island Lake Road property, restoring the barn, and expanding the Cornman Farms operations.
"It's going to be a big, beautiful events space for weddings, parties and farm-to-table dinners," said Pete Sickman-Garner, Zingerman's marketing manager.
Starting in early March, the barn was dismantled piece-by-piece and the salvageable wood will be cleaned and sent to a barnwright in Ohio called Christian and Son. It will be dated using dendrochronology — tree-ring dating — and Rudy and Laura Christian of Christian and Son will determine the barn's measurements and exactly how it was assembled more than a century ago. From there, Ann Arbor architect Charles Bultman will work to rebuild the barn.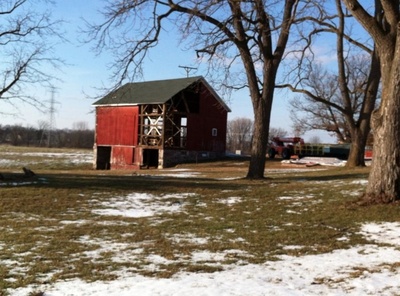 Courtesy of Zingerman's
Although it's a lot of work for saving an old barn, the entire team agrees: It's an essential part of the community and its history.
"I can't come out here and entertain the concept of taking down an 150-year-old barn without treating it with a good deal of reverence," Bultman said.
Added Rudy Christian: "It's a great project. Any time we can be involved in saving a barn that's over 150-years-old is definitely well worth getting involved with."
A covered walkway will connect the barn to the house, and the house will be renovated to include an open kitchen for cooking classes, demonstrations and family-style dinners. Rooms in the house will be used for dining and hosting events. Young said the barn will seat about 100 people and the house will seat about 40. The expansion, said Sickman-Garner, also means Zingerman's will hire additional events staff.
"I think one of the most significant glories of this place is the front yard with 300-year-old trees," Young said. "In the summertime, people will be sitting (in the house), coming in and out to the porch, and having really cool suppers."
Since Young already leads school tours at Cornman Farms, there will be smaller gardens installed on the new property for educational use. A goat-milking parlor also was constructed on the site.
Acquiring the property allows Young to grow more produce and double the amount of animals on the site. At this time he has about 60 goats, 30 Tunis sheep, 20 calico sheep, 18 cattle and 150 chickens.
And expanding the farm-to-table concept is something Young feels passionately about: "There is an epidemic of processed food and unhealthy people…it's mostly because of agricultural practices in our nation," he said.
"If we can invest some portion of our time in helping to improve that, I think it's worth it. A cornerstone of the farms' vision for years has been to just share as much as possible," he continued.
The barn will be re-erected this summer and the entire project should be completed by spring 2014.
Lizzy Alfs is a business reporter for AnnArbor.com. Reach her at 734-623-2584 or email her at lizzyalfs@annarbor.com. Follow her on Twitter at http://twitter.com/lizzyalfs.