Posted on
Sat, Dec 1, 2012 : 5:59 a.m.
Zoey + Joey salon will cater to wiggly kids with distractions like Mini Cooper chairs, TVs, video games
By Janet Miller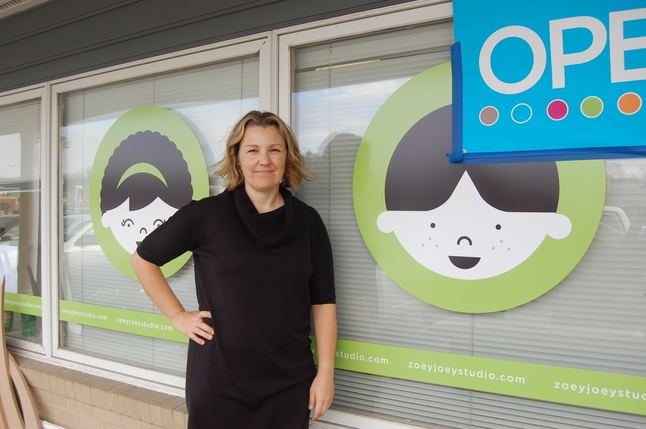 Janet Miller | For AnnArbor.com
Zoey + Joey Children's Hair Studio
plans to cut the angst out of children's haircuts.
Owner Ilze Meija Ham is almost ready to open what will be Ann Arbor's only hair salon catering exclusively to youngsters. Zoey + Joey is scheduled to open in early December at the Arlington Square office and retail center at the southeast corner of Washtenaw Avenue and Huron Parkway.
The business idea was born out of frustration, said Meija Ham, who left her law practice four years ago to stay home with her two young children. She couldn't find a salon that offered a kid-friendly environment and stylists who had the patience for wiggly little ones.
"There was no car to sit in, no movie to watch, no lollipop," Meija Ham said. "Kids don't sit still. They need help to get a successful haircut."
Adult salons were also too expensive. "If you go to a full-service salon, you can pay mom prices," she said. "They're not set up for kids."
So Meija Ham found herself driving to Canton to taker her children to a national chain hair studio that serves children.
Meija Ham considered opening a franchise in Ann Arbor, but decided she wanted to maintain control and put her personal touches on her own studio. "I wanted a place that felt modern and hip. You feel like you're walking into a carnival with most children's hair studio franchises," she said. She also didn't want to pay the franchise fees.
Zoey + Joey took two years of planning. A branding company helped her select the name (no, Zoey and Joey are not the names of her children). She hired a staff of seven and had hoped to open the studio in November. But construction delays pushed the opening back to early December, she said.
The 1,700-square-foot hair studio will include seven chairs, including three Mini Cooper chairs (with working horns) for the youngest clients.
Zoey + Joey will be all natural, from the shampoos, conditioners and nail polish down to the organic lollipops. "It's a model I think will do well in Ann Arbor," Meija Ham said. She hopes being across the road from Whole Foods Market will give her business a boost.
The build-out included some green features, including reusing existing materials and installing a dual flush toilet.
The studio includes a sleek area for parents, complete with coffee and tea.
Zoey + Joey will target more than tots. There will be a separate space for 'tweens and teens, with four chairs, TVs and video games. There will be a mini-manicure area and a themed birthday party room for girls, where they can have a mini-spa party, princess party or tea party. Parties for boys may come later.
Haircuts for girls will cost $23; for boys it will be $21, and for adults, $25.
A second location, possibly on the west side of Ann Arbor, may also come later, Meija Ham said.