Carlton Brundidge's career as a Michigan basketball player seemed to end before it ever really began.
After sparsely playing as a freshman in 2011-12, Brundidge left John Beilein's program in March and eventually ended up with coach Ray McCallum at the University of Detroit.
The reason for the move? According to Brundidge, it was a matter of happiness.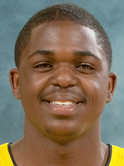 "At the end of the year, I asked myself was I really happy at Michigan and was I becoming the player I dreamed about?" Brundidge said in an interview with the Detroit Free Press. "Something inside told me this isn't where I was supposed to be."
More after the jump…