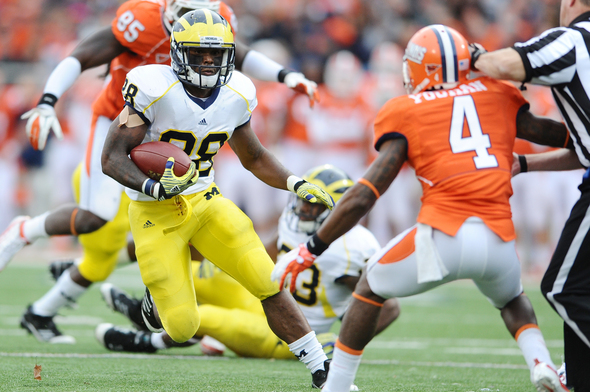 Melanie Maxwell | AnnArbor.com
At one time, the biggest knock on Michigan football tailback Fitz Toussaint was his vision.
It was so bad, in fact, that offensive coordinator Al Borges was worried about what kind of production he'd get out of the sophomore. The introduction of the West Coast offense, a sharp departure from the spread-option, exacerbated the problem in spring camp.
"I had those (concerns) — immeasurably," Borges said at a news conference Tuesday. "The running game was different, just like it was different in the passing game for Denard (Robinson), and he was just running into people, and he was doing just such stupid stuff. And I said, 'God-dog, Fitz.'
"But he don't do that much anymore."
More after the jump…