YOU SHOULD ONLY BE HAPPY ....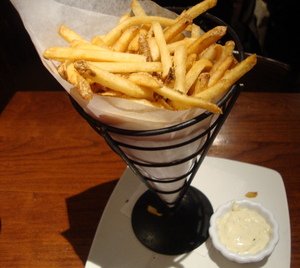 Mary Bilyeu, Contributor
My son Jeremy had been wanting to try the Truffled French Fries at today's Frugal Floozie Friday feature — the Jolly Pumpkin Cafe & Brewery — since I first told him that I'd found the intriguing dish while searching through a variety of menus one day while making a list of restaurants to visit. He's not a fan of mushrooms, usually, so I wasn't very sure that he'd enjoy these.
So imagine how thrilled I was when Jeremy announced that "These are pretty delicious. These are the best fries ever!"
They were utterly irresistible — so crisp, so fragrant with rosemary, so subtly and perfectly flavored with truffle and salt — that we'd have each happily devoured our own serving rather sharing. The fries were perfectly complemented by a rich mayonnaise-based dipping sauce — ketchup would be a sacrilege.
I've already made a note to myself that these fries will be on my Top 10 list for the year. And they only cost $5, our mandatory per-person budget, despite a truly generous portion!
More after the jump…