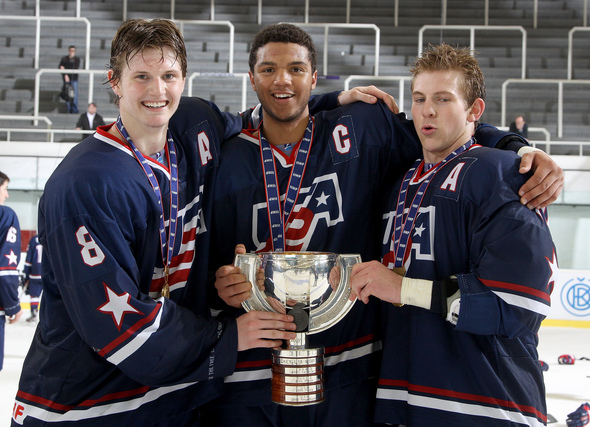 Jana Chytilova | HHOF-IIHF Images
Time passes and players get older and move on, but USA Hockey's under-18 national team has been unaffected when it comes to the World Championships. Time may not stand still, but the results do.
With a 7-0 win over Sweden on Sunday in the Czech Republic, the U.S. took home the gold medal for an unprecedented fourth consecutive year.
"We worked hard, played a very disciplined game and never let up," U.S. coach Danton Cole said. "These players deserve to call themselves champions."
While all but one of the players on the team spent the last season in Ann Arbor playing in the National Team Development Program based at the Ann Arbor Ice Cube, their medals will be shuttled out to the hometowns of the players to be shown off to family and friends.
Two, though, will stay in Ann Arbor.
Defenseman Patrick Sieloff and forward Andrew Copp are natives of the city.
More after the jump…