Updated at 7 p.m. Tuesday.
Brady Hoke isn't the only Michigan Man part of the Wolverines' new football staff.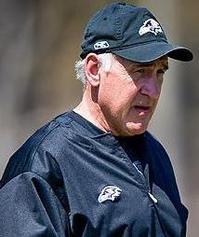 Baltimore Ravens' defensive coordinator Greg Mattison has been hired as the Wolverines' defensive coordinator, Michigan officials announced Tuesday night.
"Greg loves Michigan, loves recruiting and is excited about coming back to Ann Arbor and the University of Michigan," Hoke said in a statement issued Tuesday. "Greg is one of the top defensive coordinators in football, and his defensive units have always prided themselves on stopping the run. He will be a great asset to our program and an excellent addition to our staff."
Mattison could not be reached for comment Tuesday.
Mattison just completed his second season as the Ravens' defensive coordinator. In 2009, the Ravens allowed a league best 3.4 yards per carry and finished the season as the NFL's third-ranked defense.
More after the jump…