Along the Bridle Path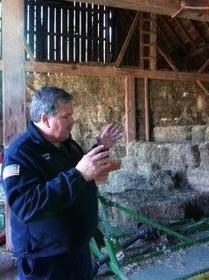 Kathy Lundberg | Contributor
Last week our neighbor's barn caught fire and burnt to the ground. Their horse, poultry, a young steer and many rabbits unfortunately perished. Firefighters were able to save the house, and prevent the spread of the fire to adjacent buildings and properties.
Horses in the neighboring fields raced with their tails straight up, calling out and clearly considering storming the gates to distance themselves from the wall of flame. The heat was palpable at that distance, with intermittent explosions punctuating the fire's roar.
We are greatly saddened by the loss of livestock and property but relieved that no people were injured and that damage was limited by the heroic work of the firefighters.
More after the jump…