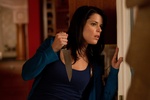 Do you like scary movies—that were filmed in Ann Arbor, Plymouth, Northville, Livonia, and Dearborn?
Then you're in luck: Wes Craven's "Scream 4" is being released on DVD on Tuesday, Oct. 4.
Though the first three films in the juggernaut horror/comedy series each scored more than $100 million at the box office, "Scream 4" earned just $38.2 million domestically (more than $80 million worldwide), and critical reception seemed to be of the "love it or hate it" variety. (The film scored 58 percent on RottenTomatoes.com.)
Original series stars Neve Campbell, Courteney Cox and David Arquette all resumed their roles in "Scream 4," while a phalanx of young actors - Emma Roberts, Rory Culkin, Hayden Panettiere, Alison Brie, Nico Tortorella, and Marielle Jaffe, among others - introduced a new crop of characters to the franchise.
More after the jump…