Posted on
Fri, May 17, 2013 : 5:44 a.m.
Acclaimed local band Saturday Looks Good To Me returns with new album after 6-year hiatus
By Will Stewart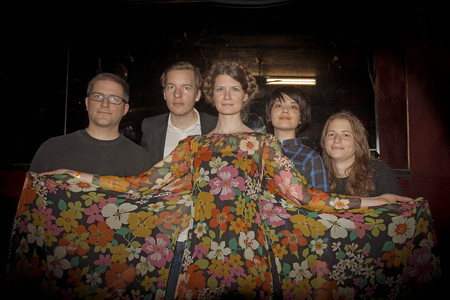 photo by Doug Coombe | courtesy of Polyvinyl Records
For all of Fred Thomas' musical wanderings—singer-songwriter, noise provocateur, indie label wunderkind, etc.—
Saturday Looks Good To Me
has always been the project that most closely mirrors Thomas' musical heart and soul.
Now, 6 years after its last release and after more individual releases and collaborations than you could possibly count, Thomas has resurrected his former band.
"It doesn't feel like a comeback album so much as it was just time to get things going again," said Thomas over a couple of beers at a watering hole down the street from his Ypsilanti home. "It's not that Saturday is necessarily the best single outlet for me—it's that it's the best outlet for a certain kind of pure pop song that I've always loved to deeply and have always been able to rely on."
On May 21, Polyvinyl, SLGTM's longtime label, will release "One Kiss Ends It All," the band's fifth full-length record (among several 7-inch releases, cassettes, compilations and other assorted releases) and its first since 2007's "Fill Up The Room."
A lot has happened to Thomas since then. He moved to Portland, then moved to New York City, then moved back home again to the Ann Arbor area. He released records with his noise band, City Center, with Mighty Clouds (a collaboration with former SLGTM singer Betty Marie Barnes;) and with local supergroup Swimsuit, not to mention a couple of solo records, and scads of tapes on his Life Like cassette label. And that only barely scratches the surface.
Along the way, he's established an international reputation, not only as a bandleader, collaborator and genius songwriter, but also as one of the most reliably kind, thoughtful and extraordinarily accessible artists you're likely to find.
Yet since folding the band following a a June 2008 performance in London, Saturday Looks Good To Me has remained something of a crucible for the 36-year-old Thomas. On the one hand, it's the project he's most closely associated with and the one that more or less established his reputation. On the other hand, for all its acclaim, the band never really lived up to its commercial potential or Thomas' strict standards and ever-evolving musical passions.
By 2009, Thomas felt SLGTM had run its course and he was focusing his energies on myriad other projects.
"I really did think I was done with it," he said, thinking back over SLGTM's tumultuous, 6-year initial run. "We were working hard the whole time, but we were just playing the same shows and I don't know if the records we were making were having any kind of an impact.
"I think we kind of confused our audience."
Then one day in 2011, Thomas was talking to his old friend and former SLGTM band member Elliot Bergman, who suggested that, perhaps, it was for time for Thomas to re-launch his signature band.
"That was basically it: a challenge from a friend," Thomas says with a laugh. "I started writing songs for it that night."
Soon, a reconstituted SLGTM was playing shows, and beginning work on what was to become "One Kiss Ends It All."
The next step was to contact the folks at Polyvinyl, the label that has served as SLGTM's longtime home base. The highly regarded label is also home to such indie luminaries as Loney Dear, Deerhoof and of Montreal, among others, and has been a staunch supporter of Thomas.
"Polyvinyl has really grown and become one of the indie labels that's really a success story," he said. "But they were really excited about a new Saturday record and that was really important to me."
Of course a lot changes during 6 years. Band members scatter and others find jobs and settle down. While SLGTM has always been something of a loose confederation built around Thomas, the only returning member this time around is bassist Scott DeRoche, who has been with the band on and off since it formed in 2000. Rounding out the current version of the band is keyboardist Amber Fellows, guitarist Shelley Salant and singer Carol Gray. Thomas said the band might change from one gig to the next, with, say, a horn section dropping in for a night.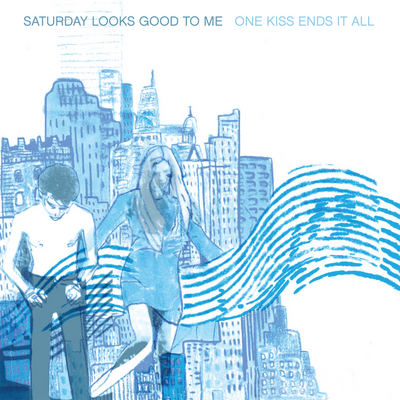 Yet an initial spin of "One Kiss Ends It All" reveals that Thomas hasn't forsaken the reverb-heavy, girl-group vibe that permeates the SLGTM catalog. Barnes, who moved to Sweden since the band's last album, even returns to sing on two tracks. (The new album can be
streamed online
at Paste magazine.)
Thomas worked with friend and collaborator Brook Davis to engineer and produce the new record, which he recorded both in Chicago and at Jim Roll's Backseat Studio in Ann Arbor, as well as doing some recording at home.
Yet, if the sounds are familiar, lots has changed about how Thomas approached this recording.
"The earlier records, I was recording them myself and kind of making things up as I went along, then piecing them together" he said. "There was a detachment, because I wasn't really thinking about the finished products.
"But this record started out as songs."
And the record's buoyant sound belies the somewhat bleak content of the songs.
"The sound is happy, but the songs are lonely," Thomas explained. "There's lots of solitude and empty heartbreak.
"But Saturday has always been an outlet for my heartbroken songs."
In other ways, though, the new record marks a clear line of delineation from any of the band's previous incarnations.
And as his interests and musical horizons have broadened, so has his perspective.
Not unlike the proverbial river that can't be stepped in twice, the new Saturday Looks Good To Me is both the same and different at the same time.
"I don't feel the same way about it anymore, because in a way, that band is done," he said. "I think I'd feel really sad if everything was the same as it was at the turn of the century.
"Everything you do leads to the next thing you do."
For upcoming concert dates, see the Tour section of the SLGTM Facebook page.