Posted on
Sun, Jul 31, 2011 : 5:45 a.m.
Whit Hill has a new book that's not about her ex-roommate Madonna; and a song on 'True Blood' tonight
By Roger LeLievre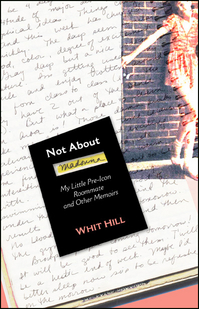 "When I met Madonna Ciccone, my initial assessment, even as I watched her leg soaring into an effortless front extension, was that I had little to learn from any young whippersnapper from Michigan, safety-pinned earlobes or no. I felt no instant flush of warmth and trust the day we met, no recognition of a kindred spirit—in fact, all I recall feeling was an almost seismic wariness. But somehow, a few days later, she was my roommate. She moved into apartment 10A of University Towers, an ugly '60s-era monolith right on campus, and took the bed on the other side of a Formica partition. I never knew what hit me." - from the introduction to "Not About Madonna"
If you're looking for a juicy tell-all book about pop star Madonna's college years at the University of Michigan, you won't find it in Whit Hill's new book "Not About Madonna: My LIttle Pre-Icon Roommate and Other Memoirs."
Hill, a singer-songwriter, choreographer and former Ann Arborite who now lives in Nashville with her musician husband Al Hill, says so flat out.
"Obviously a great deal more thought has gone into this book and vast parts of it are not about Madonna, hence the title. As the book states very clearly and as the title states, is about bigger things than that. And I warn people in the introduction, if you want a tell-all about Madonna, go get another book because this probably won't meet your needs. Madonna is a spoke in my wheel, a cog in my whirring factory. This book is a lot of things. And even though she's in it, this book is not about Madonna.
"It's probably a more detailed picture of her at a certain point in her life than you will probably get anywhere else, but it's about far more than just her," Hill added.
Instead, readers will find a chronicle not only of Hill's two semesters as Madonna's roommate and close friend at the U-M in 1977, but a thoughtful meditation on issues around being a female artist in America, about being a mother and about losing one's mother. "We both lost our mothers in kind of tragic ways, and it occurred to me that it was really interesting that we thrown together," said Hill.
The 272-page book, published by Heliotrope Books and available Sept. 9, has been in the works, on and off, since around 1990, Hill recalled.
"I started the project to try and support myself and my kids while working as a choreographer. But then I decided I needed to write something I could be proud of. I just wanted to take the celebrity 'I Knew Her When' schlock and make something beautiful out of it."
"The pace accelerated when Hill, a New York native, reconnected with a woman she went to school with in fifth grade who has a very small publishing house in New York. "She was down in Nashville visiting me and we were canoeing, I got my nerve and mentioned I had this project and I e-mailed her a draft and that was it," said Hill.
"Then it just took off. We did a careful legal vetting of the whole thing and found no problems. ... The whole publishing world has completely changed over the last couple of years, suddenly a whole new world has opened up. Print on demand has leveled the playing field in so many ways."
Pure chance, Hill said, brought her and young Madonna Ciccone together to room in University Towers while they were enrolled in the U-M dance program.
"We were really different people ... but I think women are really good, really open to being accepting of each other and growing close when they are stuck in a room together, maybe more than men are, I would imagine.
"That's what happened with us, and it was really rewarding in some ways. I came away from that year—well, nine months, (and) we continued our friendship for a bit after that—as kind of a different person because of her. Whether she was changed by me, I can't suggest that, but I would imagine there was some of that."
Knowing Madonna has obviously affected Hill in other ways, which are addressed in the second part of the book. More than once she has been called on by the media to comment on her famous former roomie.
"I am frank and open about what it's been like for me to constantly come up against this person I was close with that I have no contact with now, and what that's like. And there were the years I was a paid Madonna expert and what that was like for me... goofy, surreal, strange and really funny," she said.
One treat Madonna fans will find in the book is a heretofore unpublished letter Madonna wrote to Hill over Christmas break during the time they shared the apartment.
"It's kind of an incredible document . .. I'm glad I saved it. I had been away for Christmas vacation, and she was staying alone in the apartment and she was lonely; she used (the letter) as kind of a diary of everything she did those two weeks.
"I love how it's written; I think it's really cool. Her intelligence and humanity come through ... I have letters from all my friends in college. It's not like I saved that one to the exclusion of all the others. But I saved it and I'm glad I did. It's kind of a glimpse into her thinking at that time when she was just about to leave Michigan and go to New York."
Are there any surprise revelations in the book? "I think the book is full of surprises," Hill said.
And does Madonna know about this book? "We've notified her. So far - no comment," Hill reported.
'True Blood'
Meanwhile—on an unrelated, really not about Madonna note—Hill has a brief moment in the spotlight coming tonight, when a song she wrote is set to be used in the hit HBO series "True Blood."
In an email, she recalled it was written with her friend Bill Edwards 8 or 10 years ago in her old garage on West Washington Street. Called "What'd I Do," it's written to be sung by a man, and Hill has no idea how it will be used, or in what scene.
Whit Hill plans a book signing at Nicola's Books in the Westgate shopping center at 4 p.m. Sunday, Aug. 21. "Not About Madonna" will also be available on Amazon this summer and in area book stores in the fall. For more information, visit https://www.facebook.com/pages/Not-About-Madonna/215258281825270
Hill is also expected to perform as part of the annual NashBash at the Ann Arbor Farmers Market on Aug. 18. Watch for a preview on AnnArbor.com