Posted on
Mon, Mar 18, 2013 : 10:53 a.m.
18th annual Exhibition of Art by Michigan Prisoners opening on North Campus
By Janet Miller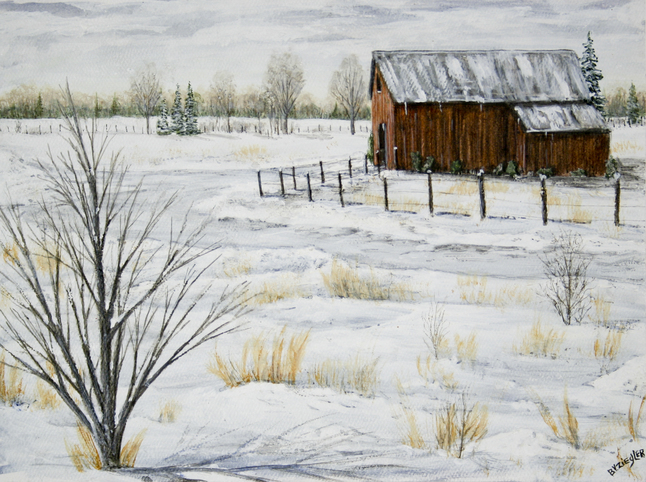 The 18th annual
Exhibition of Art by Michigan Prisoners
means different things to different people: For the artists themselves, it's a way to imagine beyond the bleak walls of the penal system. It's also a way to raise enough money for the artists to buy more art supplies. For collectors, it's a source of affordable, original art. For the viewing public, it's a chance to see a large and diverse body of art, from Michigan landscapes to meditations on prison.
But for Janie Paul, a professor at the University of Michigan's Penny W. Stamps School of Art and Design, it's a way to remind the public that this country has the largest incarceration rate in the world, and that while prisoners may be out of sight, they are not out of mind.
"They are leading lives where it is very, very hard to have productive and generative lives. There is nothing in place to transform their lives," she said. "I think it's a basic human rights issue."
Presented by the Prison Creative Arts Project at U-M, it is the largest exhibit of prisoner art in the country, Paul said. This year's exhibition, which opens Tuesday, includes 430 works by artists from 29 Michigan corrections facilities. It's a juried show, with works selected from 1,100 entries.
A member from the PCAP committee meets with artists to talk about art and their lives, and a statement about each artist is created for the show. The artists have different reasons for entering the show, said Sari Adelson, coordinator of exhibits and development. "Some just want to create something that's beautiful in a space that's so ugly and dark. Some do it to stay connected to their life: They create images of family or their childhood home. Some do it as an escape."
Over the years, there are two pieces by the same artist that stick out for Adelson. "One was a big risk for the artist, the other was incredibly haunting," she said. One dealt with homosexuality inside prison and pictured two men in prison uniforms holding hands in a tightly cropped image showing clasped hands and edges of the blue and orange uniform of Michigan prisoners. The other, titled "A Prison Constitution," was a painting on two wood panels showing makeshift weapons manufactured in prison, such as a padlock inside a sock.
In connection to U-M's theme semester on race, the exhibition gave artists the chance to submit work on this theme. But that didn't limit this year's exhibition. Artists address a wide range of subjects: Landscapes are popular. So are Native American themes and portraits of President Obama. Artist Andrew Wynkoop's work with its dark imaginary is in the style of Dutch painter Hieronymus Bosch, Paul said, while Bryant Ziegler's painting goes to the other extreme with peaceful and simple snowy landscapes.
The exhibit opens at 10 a.m. March 19 at the Duderstadt Center Gallery on North Campus, with an opening reception from 5:30 to 8 p.m. Exhibit hours after that will be 10 a.m. to 7 p.m. Tuesday-Saturday and noon to 6 p.m. Sunday. The exhibit will be up until April 3. Most of the art is for sale, with prices running between $20 and $400. The show's popularity has grown by leaps over the years. There were 442 visitors for the first show, while more than 4,000 visitors saw the exhibit last year.
The art show, Adelson said, ultimately gives the artists an identity outside of the prison system. "I don't think any of us want to be remembered for the worst moment of our lives," she said. "This is a chance to be more than that moment. To be known by their names, not their numbers or their crimes."