event preview
with jukebox:

Riverfolk Festival returns to liven up August in Washtenaw County

Posted on Sat, Jul 31, 2010 : 5:17 a.m.
Bored? Struggling with the dog days of summer now that the Fourth of July, the Summer Festival, the Townie Street Party and the Ann Arbor Art Fairs have come and gone and are now receding into memory? Is that what's ailing you?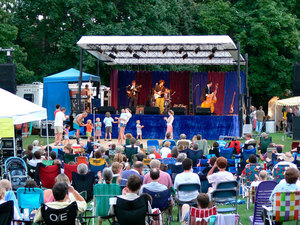 Well, just in time, as always, the Riverfolk Music & Arts Festival comes to the rescue. Set amidst the pastoral environs of Carr Park in Manchester, the Riverfolk Fest offers a respite this weekend from the dog days with a lively, arty mix of roots music, visual arts, dance, food, beverage, some healthy music competition, and, new this year, a "Jam Camp."
The fest officially commences at 10 a.m. Saturday, but, as always, things will kick off Friday night at the pre-fest "Party in the Park," with live bands, a cash bar and authentic Cajun cuisine from Broussard's.
Then, on Saturday, festivalgoers can enjoy music all day long, with tunes provided by 10 different bands / artists. There is also a juried art fair, a fiddling contest, a songwriting contest and a kid's area. See the full schedule at the Riverfolk Festival website.
Preceding the festival will be the three-day Jam Camp, held at nearby Sharon Mills Park, where budding musicians — whether they play guitar, fiddle, mandolin, banjo, accordion, bass, drums, Dobro, etc. — can go to get some pointers from some of the artists who are headlining the fest.
PREVIEW
Who: Music by Joe Hall & the Louisiana Cane Cutters, Trent Wagler & the Steel Wheels, The Galactic Cowboy Orchestra, George Bedard & the Kingpins, Woody Pines, Dick Siegel and more.
What: Roots music, plus artists' booths, children's events, fiddling contest, songwriting contest and more.
Where: Carr Park, Manchester.
When: Saturday, August 7, 10 a.m. - midnight.
How much: $12 for one-day pass, $20 for weekend pass. Children 12 and under, free. Tickets available at Riverfolk Festival website.
Related event: Party in the Park, Carr Park, Friday, 7-11 p.m., featuring music and food. $12, plus cash bar.
Those headliners include Joe Hall & the Louisiana Cane Cutters, who crank out a sizzling, high-stepping brand of zydeco; Trent Wagler & the Steel Wheels, an up-and-coming bluegrass group from West Virginia who are also adept at pre-bluegrass mountain music; and The Galactic Cowboy Orchestra, an eccentric genre-bending group that synergizes jazz, Celtic, bluegrass and world-music.
The Cane Cutters are primarily based in Lafayette, Louisiana, the heart of Cajun country, and have mostly played the South until now. "But I'd heard they wanted to expand their reach a bit, take it out on the road, and come up north," says Mark Palms, the fest's artistic director.
Hall, who sings and plays accordion, started out playing Creole music — the roots of zydeco — learning from some of the masters, like Bois Sec, Canray Fontenot and Nathan Abshire. The Cane Cutters also include fiddler Jonno Frishberg, guitarist / fiddler D'Jalma Garnier, bassist Gerald Broussard, and drummer / rub board player Paul Levin.
They play a bluesy brand of zydeco, similar to that of Rockin' Dopsie & the Twisters, and "Hall's squeeze box really becomes a dancing machine," says Palms. "They definitely put out a lot of energy."
As for Wagler and the Steel Wheels, "We thought they would be a good fit, because we're always looking for young, new band bands that have a lot of talent," says Palms. "They're an interesting combination, because they're young and energetic, but they play a traditional sound. They don't get into the newgrass, it's more of a raw sound, and they also play those old Appalachian songs."
Wagler has one of those "high-lonesome" singing voices that are so coveted and celebrated in the bluegrass world. "Some bluegrass bands can get too refined, but these guys are really down to earth," praises Palms, a recently retired public school music teacher who's also been playing and singing in the Raisin Pickers for 20 years.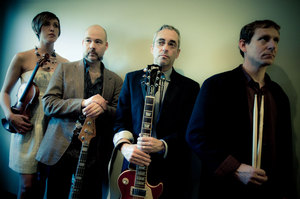 As for the Galactic Cowboy Orchestra: Well, you can't say this band is lacking in musical ambition or innovation. Lisi Wright is a dazzling electric fiddler, and drummer / percussionist Mark O'Day provides intricate poly-rhythmic percussion. The band's sound could best be described as progressive bluegrass fused with jazz and world music elements.
"It's an eclectic sound, to say the least," says Palms with a laugh. "I like it when a band like this has the ability to fuse different elements into a compositional piece — they can go from playing a peaceful melody to a raucous, John McLaughlin type of finish."
Also performing at the fest will be local heroes George Bedard & the Kingpins. "They'll play a sock hop in the afternoon, and then will close the fest, after the Cane Cutters," says Palms. "Everyone likes to dance by the end of the night."
Another musical highlight will be Woody Pines, who plays ragtime music and Delta blues on a resonator guitar. "He spent a lot of years playing on the streets of New Orleans, but lately he's been doing the festival scene, so he should be a lot of fun," says Palms.
Listen to a selection of songs by artists performing at this year's Riverfolk Festival:

One addition to this year's fest, besides the Jam Camp, is a beer tent on Saturday. Up until this year, if people wanted to enjoy a cold one, they had to bring their own.
Palms is especially excited about the Jam Camp. "People can sign up, for three days, whether they're a novice or an experienced player," and get instruction from some professional musicians, including some members of the Cane Cutters or the Steel Wheels, he says. "And then they'll be organized into small groups, to give them a feel for how to interact and engage with other musicians.
"Then, if they want, they can perform a tune or two at the festival itself, on the main stage, maybe joined by one or two of the guys from the Cane Cutters or the Steel Wheels."
The same opportunity will be afford to those who "win" the songwriting contest and fiddling contest — they will also get to perform at the fest.
Palms notes that the bucolic bliss of Carr Park really adds to the overall festival experience. "The park is just such a great natural setting," he says. "It has the rolling hills, and the beautiful trees. You just can't help but feel at peace as soon as you walk into the park."