Posted on
Thu, Jan 10, 2013 : 2:32 p.m.
3 Minutes in Lyon Film Festival now accepting entries
By AnnArbor.com Staff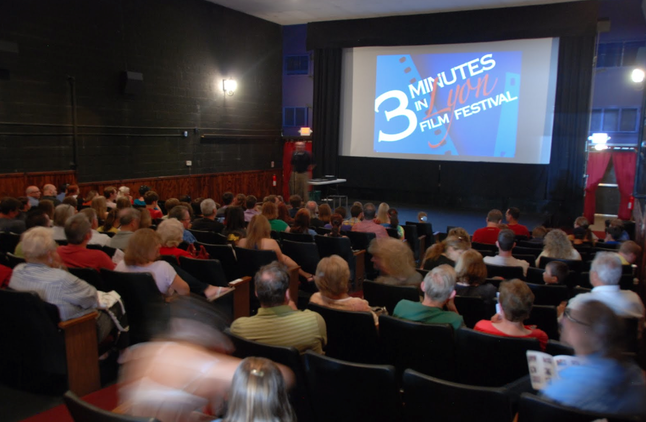 Photo by Alan Macchiorolo
Organizers of the
3 Minutes in Lyon Film Festival
recently announced the schedule for 2013, and are now accepting entries.
Now in its third year, this festival has grown while providing an opportunity for area residents to show, through visual arts, aspects of Lyon Township and South Lyon life in a unique way. The festival brings together several important community elements: non-profit organizations, the business community, and area residents of all ages who create and publically display one-of-a-kind videos with the South Lyon area as a backdrop.
The 3 Minutes in Lyon Film Festival is an event where videos are submitted, critiqued by television and multimedia professionals, and shown to audiences over the festival weekend. The festival schedule is:
Saturday, May 18 Deadline for entries Saturday, May 25 Judging at Abbey Park at Mill River. Friday, May 31 Free Screening Night. All videos shown to the public for the first time. Saturday, June 1 Participants Reception Sunday, June 2 Festival Awards Ceremony at the Lyon Theatre
"My goal for this festival has always been to give people an opportunity to explore and practice their visual arts talents in a local setting," according to founder Rich Perry. "Many young people may not realize they have skills as a film director, editor or videographer until they actually begin the filmmaking process. Access to creating visual content has been made so much easier with video cameras in practically every phone, some in HD, and basic editing software available for free. Anyone with an idea and a desire to tell a story can do so quite easily. The challenge is to make it entertaining and unique."
The festival will challenge participants to tell a unique and entertaining story in three minutes. Anyone is eligible to submit a video, and in the previous two years, the age range of participants has been 10 to 59.
Another twist to the festival is that the video footage must be shot in the South Lyon and Lyon Township area, with the goal of showcasing our local area to more people in our region. While videos are required to be shot in this area, the festival has received international entries from producers who simply want to expose their work to more audiences. International entries have come from Brazil and Montreal.
Again this year, the Friends of the Salem-South Lyon District Library is sponsoring the Library Choice Award. The video deemed as the favorite of the library staff will be awarded $250. Additionally, the recipient of the Audience Choice Award will receive $250.
3 Minutes in Lyon Film Festival is a non-profit organization based in South Lyon, and founded by Richard Perry in 2009. The festival is dedicated to providing students, video hobbyists and amateur filmmakers' opportunities to practice and demonstrate cinematography, writing for film, editing and storytelling using multimedia. Since 2010, nearly 60 videos have been produced for the festival. For more information, please visit www.lyonfilmfestival.org.