Posted on
Sun, Jul 14, 2013 : 5:54 a.m.
Jeff Daniels' 'The Newsroom,' season 2: 3 things I hope to see
By Jenn McKee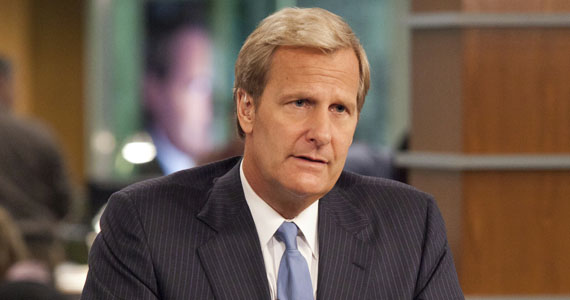 Season 2 of the HBO drama
"The Newsroom,"
starring Chelsea-based stage, television and film actor
Jeff Daniels
, kicks off Sunday at 10 p.m. - and the show fits neatly into writer
Aaron Sorkin
's body of television work.
Why? Because it's a show about smart, passionate, fast-talking, ludicrously articulate people putting on a show.
Sorkin's previous series include "Sports Night," which went behind the scenes of a cable sports network highlights show; "Studio 60 on the Sunset Strip," focused on the people involved in pulling together a "Saturday Night Live"-style, weekly late night sketch comedy show; and one could even argue that the Presidential drama "The West Wing" qualifies, too, since theater plays no small role in politics.
With "The Newsroom," Sorkin has turned his focus to a group of cable television news producers and reporters who aim to do news the "right way" and not just do what every other news outlet is doing in the name of being first, or getting ratings via sensationalism.
Daniels' prickly character, Will McAvoy, is a moderate conservative anchorman (so we're told - the script often doesn't seem to bear this out) who has a painful romantic history with producer MacKenzie (Emily Mortimer). Mac's called up to assemble a new production team for Will after he goes on a blistering political rant during a college panel discussion, and his team leaves with Will's co-anchor to launch a separate news program.
As a big fan of Sorkin's past work - and as someone who works in a newsroom and gets the occasional chance to interview Daniels - I was really excited about what the show might be before it premiered last season.
But the "The Newsroom" frustrated as often as (if not more than) it satisfied in its opening season. As much as I admire Daniels' exactly-right performance, and love the screwball comedy pacing, sharp dialogue, and sometimes whiplash-inducing swerves from comedy to drama - Sorkin has referred to young producer Maggie's urgent announcement of Gabby Giffords' shooting, in the midst of office chaos, as a "Radar O'Reilly moment" - questions of what's right often seem way too easy (and too uniformly partisan), even if following through on them is sometimes hard; and the relationship plotlines - i.e., the Jim-Maggie-Don love triangle, and the Will-Mac friction - always produce the show's weakest, most wince-inducing moments.
But "The Newsroom" could, if it ever reached its full potential, provide a thematically rich discussion about the country's political/cultural divide and media climate. So here's hoping the new season makes an effort to right the ship, perhaps by way of these three suggestions.
1. Don't make conservatives out to be caricatures with always-weak, ill-considered arguments. The liberal viewpoint versus the conservative perspective on "The Newsroom" has the feel of Godzilla vs. Bambi. It's not a fair fight, and it's not a particularly interesting fight, when the deck is so ridiculously stacked. Present the best, strongest, smartest arguments on both sides of a topic - and present smart people on both sides, perhaps with conservative pundits in the mold of David Brooks or Shelby Steele - and trust your audience to decide on the issues for themselves. (Sorkin provided this by way of Ainsley Hayes on "The West Wing," so I know it's in his power.)
2. Focus more on the newsroom push-and-pull of telling important stories and telling popular stories, as "The Newsroom" did when debating whether, and how, to talk about the Casey Anthony trial. This is exactly the kind of discussion I was hoping to see, played out even more, on the show; so as far as I'm concerned, more news stuff, less love stuff, and we'll be on our way.
3. Make the female characters less dithering. Mac accidentally sends the entire newsroom an email about previously cheating on Will? Maggie gets splashed by a "Sex and the City" tour bus and goes on a rant? Sloan makes a really bad judgment call on live television? The "sorority girl" Will epically dresses down in the premiere episode arrives in the newsroom during the season finale, hoping to work for him? I realize the male characters have their own less-than-smooth moments, too, but really. Give the ladies of "The Newsroom" something meatier and more meaningful to work with. These actresses (Alison Pill, Mortimer, and Olivia Munn) deserve it.
So let's go, "Newsroom" season two. I'm watching.
For now.
Jenn McKee is an entertainment reporter for AnnArbor.com. Reach her at jennmckee@annarbor.com or 734-623-2546, and follow her on Twitter @jennmckee.