Posted on
Wed, Mar 21, 2012 : 10:27 a.m.
30 artists, 30 artworks, 30 days adds up to winning concept for Ann Arbor Art Center
By AnnArbor.com Staff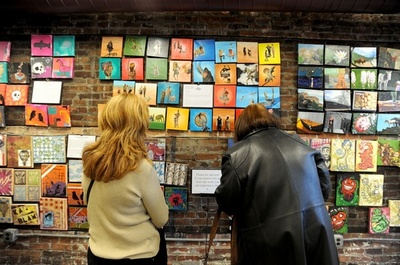 For the last couple of years, the Ann Arbor Art Center has asked 30 artists to create 30 artworks in 30 days. The small pieces sell for $40 each as a benefit for the center's Art for Kids program, which supports youth scholarships and programming.
The event has quickly become a hit, and the sale returns this weekend, from noon-5 p.m. Saturday and Sunday at the Art Center, 117 W. Liberty St.
Art is sold on a first-come, first-served basis and buyers are encouraged to remove artwork from the wall that they want to purchase.
"Each year we have had people lined up waiting to get in. Last year there were lined up an hour before. It makes for a very exciting event," said Marsha Chamberlin, Art Center president/CEO, in a press release. "Parents bring their children so that kids can pick out work for their rooms. At $40 you get great work at affordable prices." The 30 x 30 Benefit Art Sale has once again received a tremendous response from artists, according to the Art Center. For some it is an experiment in a new format or medium and for others the challenge of completing the number of works successfully.
"We are very grateful to the artists who are so supportive. It is a big commitment for a good cause" said Amy Farnum, Gallery Shop director at the Art Center.
In addition to paintings on canvas, the sale will also include jewelry, glass buckles with belts, pottery and more. Works can be previewed on the 30X30 Ann Arbor Art Center Facebook page.