Posted on
Mon, Apr 9, 2012 : 5:57 a.m.
'30 Rock''s Judah Friedlander offering his World Champion stand-up in Ann Arbor
By Jenn McKee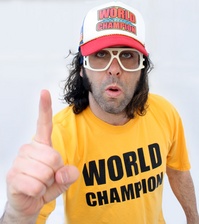 Maybe you won't be shocked to learn that
Judah Friedlander
—who plays TV writer Frank Rossitano on "30 Rock," and is bringing his stand-up act to the
Ann Arbor Comedy Showcase
on Thursday—is a performer who's worn, well, several different hats during his long career.
He drew political cartoons and made animated films as a kid, then got started in stand-up comedy at age 19; he then added commercials, as well as films as different as "Meet the Parents" and "American Splendor" (he's nearly unrecognizable as Harvey Pekar's friend, Toby Radloff), to his resume. He starred as the hugging guy in the Dave Matthews Band video "Everyday" in 2001; and while "30 Rock" has perhaps provided him the most sustained exposure—seemingly second in command to Tina Fey's Liz Lemon, Frank is a lazy, sex-obsessed slob who lives with his mother (Patti Lupone) - Friedlander also recently released a book ("How to Beat Up Anybody: An Instructional and Inspirational Karate Book by the World Champion") that's aligned with his stand-up persona.
"I told the '30 Rock' producers, before the show started, that I had to look like I do for my stand-up act," said Friedlander, referring to his trademark trucker hats with funny messages; thick glasses; long, unkempt hair; and slacker attire. "Because I can't put my stand-up career on hold."
As it turned out, of course, Friedlander's hat messages became one of the show's most popular running gags; at least once an episode, usually, you seek out Frank in a scene in order to see what his hat says.
PREVIEW
Judah Friedlander
What: "30 Rock" star Friedlander brings his stand-up comedy to Ann Arbor.
Where: Ann Arbor Comedy Showcase, 314 E. Liberty.
When: Thursday, April 12 at 7 p.m.
How much: $18 in advance, $20 at the door. 734-996-9080 or www.aacomedy.com.
"Frank's a guy who's not the best talker, but he's a horny dude, and he wants chicks, so he comes up with these goofy or funny sayings to get girls' attention," said Friedlander. "And I always like it when you watch something, and there's something you didn't see the first time. It adds an extra layer of jokes to the show."
Friedlander has been wearing and making his own hats for about 16 years now, and they were an outgrowth of the values he absorbed while growing up.
"I grew up doing a lot of art stuff," said Friedlander. "Even as a kid, I'd make my own T-shirts—paint- and draw-on T-shirts—and I've been wearing hats since I was a kid. I guess I was always a hat guy.
"But when you'd go to the store to buy a hat, there was always something written on it, and I thought that was dumb. I never wore labels—my parents never bought clothing with labels, because they were more expensive, and my parents thought that was stupid. Why would I wear a hat that says Nike, or something like that, and give free advertising to some giant company, when I could buy a blank hat and put my own stuff on it?"
When Friedlander performs his stand-up these days, he always wears a hat that says "world champion" in some language (including Braille). But he won't decide what to write on a "30 Rock" hat until the day he starts filming an episode, so he sees what colors Frank will be wearing, and can do something in keeping with the story.
"I always keep a list of possible hat ideas," said Friedlander. "Some are just flat-out jokes, and sometimes, it revolves around the script. A few seasons ago, Lutz and I were going (out), and Liz asks, 'Where are you guys going?' And I say, 'We're going to Times Square, to pretend we're foreign tourists.' And for that show, I wore a hat that said, 'Ole!' Without the context, there wouldn't be any joke there. … That was Frank doing his best to make people think he's Spanish."
Frank's most recent "30 Rock" storyline involves his (previously illegal) relationship with his former teacher, played by Susan Sarandon.
"Those (episodes) were awesome," said Friedlander. "I wish they'd do more of those. … I was a fan (of Sarandon's), but through a weird connection, I also knew her a little bit beforehand. I play competitive ping pong, and she actually owns a ping pong club, so I knew her through ping pong first."
Fans probably won't be surprised to learn that early in Friendlander's career, people warned him that his slovenly appearance would prevent him from getting jobs, and that he should cut his hair and dress differently. But Friedlander stayed true to himself and forged his way into the world of show business nonetheless.
"Being yourself isn't easy in show biz because they don't want people to be themselves or do something unique," said Friedlander. "Hollywood mostly looks for people who are copies of people who have already been successful. So if you show them something different, they don't know what to do."
Indeed, Friedlander believes his unconventional look may have delayed his success.
"I did stand-up for 20 years before I did my first David Letterman appearance," said Friedlander. "Theoretically, I probably should've been booked on that show after I had been doing stand-up for 10 years. So … I was more than over-prepared to be a guest on his show, and when I did it, it went great."
Friedlander seems to take things as they come in his career, and the strategy seems to have paid dividends.
"I never planned on doing a sitcom," said Friedlander. "I was perfectly happy doing stand-up and movies. I turned down a lot of auditions for sitcoms for years, because I just couldn't imagine one that I'd want to do. But then '30 Rock' came along. It films in New York; it's written by and stars Tina Fey, and I was a fan of hers; and it stars Alec Baldwin, and I was a big fan of his work. And I wound up getting the part."
While the show has won numerous awards and is a favorite among critics, it's never delivered big ratings ("Often the best thing isn't the most popular thing—I think we can all agree that McDonald's doesn't offer the best food," said Friedlander). But Friedlander doesn't worry about it. He's got hats to make—which can sometimes get to be a drag.
"Sometimes I need to work on my life, … or I want to learn and rehearse my lines, but instead I'm scrambling around, looking for letters," said Friedlander. "But I started it, and I'm sticking with it."
Jenn McKee is the entertainment digital journalist for AnnArbor.com. Reach her at jennmckee@annarbor.com or 734-623-2546, and follow her on Twitter @jennmckee.