Posted on
Wed, Mar 14, 2012 : 11:22 a.m.
40th Dance for Mother Earth Powwow in Ann Arbor happens this weekend
By AnnArbor.com Staff
Bunky Echo-Hawk, known for most recently designing the artwork of Nike's N7 apparel line, will perform his live art to commence 40th anniversary celebrations at this year's Dance for Mother Earth Powwow in Ann Arbor, happening Saturday and Sunday, March 17-18, at Pioneer High School.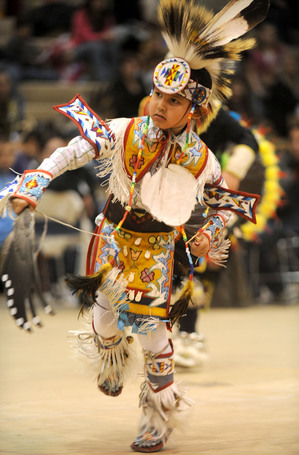 Angela J. Cesere | AnnArbor.com
Echo-Hawk's performance is a contemporary interpretation of the age-old tradition of recounting and recording the main events from the past year; painted on stretched hide, it usually depicted great hunts or battles.
The performance will begin at 11:30 a.m., during the Powwow's drum call on Saturday, March 17. Echo-Hawk will paint with inspiration from the grand entry and short stories told by elders of the community after the invocation. These stories will speak to memorable moments throughout the 40-year history of the Dance for Mother Earth Powwow. The art piece that Echo-Hawk produces will be given to U-M's Native American Student Association.
Additional 40th anniversary celebrations will be conducted on Saturday evening and Sunday after each grand entry. On Saturday evening, Echo-Hawk will hold a hand drum performance and on Sunday he will hold a "bling contest" to showcase the community's best handmade regalia and beadwork.
The annual Dance for Mother Earth Powwow is a gathering place for thousands of people from Michigan, across the U.S., and Canada where Native American culture and traditions are celebrated.
Forty years ago, a small group of Native American students and community members founded the annual Dance for Mother Earth Powwow in Ann Arbor. Since then, it has evolved into a popular community-wide event, hosted by the Native American Student Association at the University of Michigan.
Today, it is one of the largest university powwows in the nation; and according to USA Today Travel, it is one of "10 great places to be wowed by American Indian culture."
The 2012 Powwow will continue the tradition of providing a gathering place for Native Americans to celebrate and share their culture with one another, and for others who are interested in learning about our country's strong indigenous heritage. This year's Powwow will host 12 drums, and over 33 vendors/artists from across the nation and throughout Indian Country.
The entire community is welcome to join the dance arena and participate in the periodic All-Nations dances between competition dances. In addition, American Indian artisans will be in attendance showcasing crafts, art, and other items or information for display or for purchase in the marketplace.
Over the past year the Powwow Committee, composed mostly of Native American students and community members, have diligently worked in collaboration with the University to bring the Powwow a step closer to returning to the University of Michigan campus. This year, the Powwow will be held at Ann Arbor Pioneer High School, at 601 W. Stadium Blvd., as part of this transition.
Dates and times (Doors open to public daily at 10:30 a.m.)
Saturday, March 17 - grand entries will be at noon and 7 p.m.; Bunky Echo-Hawk to start performance at 11:30 a.m.
Sunday, March 18 - grand entry will be at noon
Dancer registration: Registration forms for dance competitions can be found on the website. Registration is provided on site; it costs $10 for entry to compete and a weekend pass. Non-competing dancers are welcome; regular admission is required.
Tickets: $5/youth; $7/students with ID; $10/adults; $25/family (2 adults & 3 children) Discounted group rates for 10+ persons are available for advance purchase only.
Additional information: http://www.umich.edu/~powwow/