Posted on
Mon, Mar 26, 2012 : 10:37 a.m.
Youth poetry slam scene heats up as competition finals approach
By Jenn McKee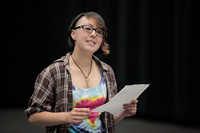 Supportive calls of "You got it," and "You're doing great," and "Keep going" came from the crowd of adolescents and parents gathered at the Community High School's recent youth poetry slam competition, every time a student at the microphone lost their place temporarily or got flustered.
Similarly, when audience members at CHS were particularly impressed or moved by the original, often personal poetry being read, they snapped their fingers, providing an aural backdrop that sounded like a quiet rain shower.
Both responses are part of the poetry slam culture, according to Jeff Kass, NZ's creative arts director (and a teacher at Pioneer) who hosts the events. "The people in the audience are peers of the writer, and they understand that it's a hard thing to get up and read something that's an original creation," he said. "You're not up there reading a Walt Whitman poem. You wrote this. It's your poem."
The CHS event was one of 4 semifinal rounds—also held at Huron, Pioneer, and Skyline—of the Ann Arbor Youth Poetry Slam Competition. The finals, which gather the best poets from each school, will happen Thursday, March 29 at 6:30 p.m. at the Neutral Zone.
At CHS, 29 students participated in the night's first round of poems, and they each received scores from a handful of judges in the front row—many of them Ann Arbor natives who are now active in the poetry slam scene at the college level or beyond—who could give out a score as high as 10, with the highest and lowest scores getting thrown out. There's audience participation in these moments, too—most often decrying the scores being too low: "Were you listening to that poem?"
But what criteria do the judges apply to the scoring?
"The standard slam philosophy is 50 percent performance, 50 percent content, or writing," said Kass. "But that's not how we do it in Ann Arbor. We have really experienced people as judges, and we've talked about how they really should think about 70 or 80 percent of the scoring being focused on the writing. Because what we're trying to do is grow writers and creators, and the writing part takes a lot of work and time, and we really try to stress that.
"What do they look for in the writing is, is the language fresh? Are there interesting insights? … We don't reward more cliche poems, even if audience likes it. What we're looking for is, has the writer really thought about this, and found a creative way of talking about it? … We turn out a lot of wonderful writers, but we get crushed at nationals, because they're much more performance-based. And if you hit hot button issues in a certain way, you're rewarded for that. But more than anything, we're trying to develop creative voices."
In each of the semifinal rounds, held at each high school, the progression goes from an all-inclusive first round; the top half (in terms of scores) read a second poem in the second round; and no more than 8 perform a third poem in the third round, where poets compete for one of 25 spots in the finals round.
PREVIEW
Ann Arbor Youth Poetry Slam finals
What: The highest-scoring student poets from Ann Arbor high schools' semi-final rounds will compete for spots on the Ann Arbor Youth Poetry Slam team, which will compete at nationals.
Where: Neutral Zone, 310 E. Washington St.
When: Thursday, March 29 at 6:30 p.m.
How much: $10 ($5 for students). For more information, call 734-214-9995.
At CHS, subjects ranged from the thorny clash between race and history; concern about a friend's self-destructive behavior; the journey from cynical pessimism to openness; a tongue-in-cheek tale of knights and ladies that made fun of the genre while embracing it; the fraying relationship between a son and his father; and a small child's confusion about a parent's explanation of rape.
Students freely used whatever language they felt best conveyed their experience or idea—so slam-goers should expect mature audience fare.
"I, as a teacher, tell my students that if there's a story they need to tell, they should tell it," said Kass. "It's dangerous to not let those stories out, and it's powerful to let other students hear them. Whether the subject is rape, or an alcoholic relative, or an eating disorder, there's someone out there who's gone through the same thing. And it's powerful to hear someone else talk about that."
Bemoaning the recent emphasis on test scores in American schools, Kass believes that the local slam scene "allows kids to keep the spark of art alive," as well as encouraging more authentic communication between participants.
"We have all these really superficial ways of connecting with each other these days, whether it be Facebook or texting," said Kass. "So to offer this kind of opportunity is really powerful—the idea of becoming somebody who pays more attention to the world, and who thinks about producing writing that expresses an idea you have, and growing as thinker and communicator. A lot of kids who get into the slam scene become leaders in the community because they come to see the value of their ideas and what they have to say. … They feel like they can be in charge of things, and that someone will care."
And, of course, there's something undeniably moving about seeing, and hearing, a room full of budding poets raucously cheer for each other, and encourage a peer in a public moment of struggle.
"That's another benefit of whole program," said Kass. "Not only do kids to hear other kids' stories, but if you get adults to listen to young people for 3 minutes, it destroys their stereotypes. So many times, after a slam, someone will approach me and say, 'I just thought they cared about shopping.' They have lots of complex ideas and want to talk about them. This venue allows the community to see and hear what's important to young people."
Jenn McKee is the entertainment digital journalist for AnnArbor.com. Reach her at jennmckee@annarbor.com or 734-623-2546, and follow her on Twitter @jennmckee.