Posted on
Mon, Jul 22, 2013 : 5 a.m.
Chelsea's big party, Sounds & Sights Festival, returns with new attractions
By Jennifer Eberbach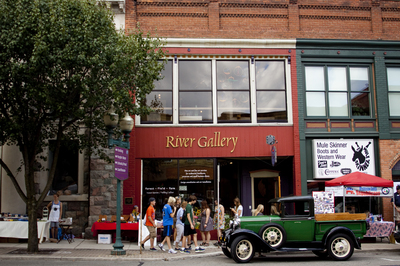 Jeffrey Smith | AnnArbor.com file photo
Downtown Chelsea has been spending summer nights enjoying music, art, other entertainment happenings, and food. And the party is about to get much bigger.
"Off the top of my head, I can't think of a bigger event in Chelsea than the Sounds & Sights Festival," says Bridget Favre, Marketing and Media Coordinator of Chelsea Area Festivals & Events.
Chelsea's annual Sounds & Sights Festival will feature live music, other types of performances, an art market, family-friendly activities, food, and spirits, from July 25 to 27. Some activities happen during the daytime, and the "Social Tent," featuring a music main stage, opens at 6 p.m. with live music from 7 p.m. to 11 p.m., behind the Common Grill each night.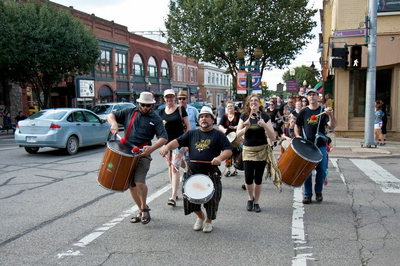 The 3-day festival draws about 15,000 people to downtown Chelsea.
This year, new offerings and developments are happening—a new version of the Art Market, Friday and Saturday, and the addition of a community sidewalk chalk event on Saturday, featuring 7 professional chalk artists.
The festival happens in the midst of Sounds & Sights on Thursday Nights, a weekly evening of free music and other happenings, from 6:30 p.m. to 8:30 p.m., on 10 stages through downtown Chelsea. The Thursday evening events run through Aug. 15.
A $5 admission charge at the main stage tent during the festival keeps Thursday nights free to the public. Chelsea has free parking.
PREVIEW
Chelsea Sounds & Sights Festival
Who: Chelsea community; everyone welcome.
What: Annual event featuring art, live music, food, and much more.
Where: Downtown Chelsea.
When: Thursday-Saturday, July 25-27.
How much: Festival admission is free. $5 admission to the main-stage tent. For more information, see the festival website.
Thursday, July 25
"Thursday is mostly focused on the music," Favre says.
Like on other Thursday evenings in summer, Chelsea will host bands scattered across downtown. The addition of a main stage for the 3-day festival will bring even more music to town that particular Thursday evening.
Opening night of the festival, the "Social Tent" main stage will feature "crowd favorites who have performed on Thursday nights over the years, but it is their first time playing the festival main stage," Favre says.
From 7 p.m to 11 p.m, Thursday's main stage will feature area bands Bill Bynum & Co. and Dragon Wagon. And Bull Halsey, group that originated in Chelsea, features band member Garth Girard whose graphic design work was selected for the event poster.
Elsewhere, Sounds & Sights on Thursday Nights bands and performers will cover downtown at various locations, from 6:30 p.m. to 8:30 p.m. Acts include Chelsea House Orchestra, Eli Adams, The Appleseed Collective, The Shelter Dogs, The Nomads, and Bulletproof Snow.
3 Generations Entertainment will make balloon animals and other fun for the kids. Eric the Juggler will perform. And "pop & lock" act Poppet will bring a dance element on Thursday.
At dusk, behind the Clocktower, SRSLY Cinema will continue their outdoor movie series on Thursday nights with Australian teen mermaid movie "Aquamarine." They host movies there each Thursday during Summer.
Both Friday, July 28 and Saturday, July 29
Over the weekend, the festival becomes more interdisciplinary. "Friday and Saturday will likely get larger crowds because of the variety," Favre says.
Happening both days, from noon to 8 p.m., the Art Market is changing.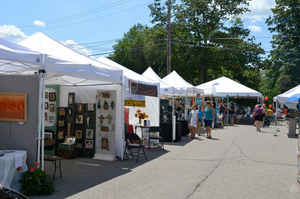 This year, it is organized by the Chelsea River Gallery with help from two professional artists. Helen Gotlib and Dylan Strzynski have been active in shaping the Do-It-Yourself art fair scene, which has gained momentum in Washtenaw Country. They helped start the Tiny Expo.
Participating artists are "cool, hip and affordable," as promised by publicity materials
"This year's Art Market is focused on high-quality craftsmanship that is within a reasonable price range," says Favre, who describes the general vibe as "indie art."
"It will be a lot of smaller-sized art and crafts, which are easy for people to take away with them."
Among the fine artists in the market, "a lot of them are doing functional art. There is a lot of jewelry, T-shirts that are custom-done, and there is even an artist who makes shoes," Favre says.
"KidZone", sponsored by Chelsea Teddy Bear Company, returns Friday and Saturday, from 10 a.m. to 3 p.m., behind the Clock Tower.
Favre is particularly looking forward to some of the offerings for kids, even though she is an adult. "Ann Arbor kids' group called The Kerfuffles is performing," she says. "We have a town favorite, Colors the Clown." She is especially excited about Wildlife Safari Company, "who will bring an array of animals from all over the world," Pure Imagination Magic Show, and Mad Science Detroit.
Friday, July 26
On Friday, from 7 p.m. to 11 p.m., the main stage tent will have a country music theme, featuring Annabelle Road and Whitey Morgan and the 78s.
Chelsea Classic Cruisers host their annual "Sounds & Sights Car Show" at the festival, on Friday from 3 p.m. to 8 p.m, on East Middle, East, and Harrison Streets.
"They have over 300 cars that come into town from across the Midwest," Favre says.
Saturday, July 27
On Saturday, afternoon music, from 2 p.m. to 5 p.m, includes performances by No Xcuses and Jake Prince Trio.
And Dance music will be the theme in the evening, from 7 p.m. to 11 p.m., featuring Third Coast Kings and Fifty Amp Fuse.
Brand new this year, you can enter a chalk art contest - $100 is "People's Choice" cash is up for grabs - from noon to 4 p.m. The public and 7 professional chalk artists will be drawing on East Middle Street, making it into a "Community Quilt."
"The professional chalk artists," who will draw their own chalk art at the event, "will also introduce chalk art to the community and teach the crowd about it, showing off some of their techniques," Favre says.
Another treat for kids, from 10 a.m. to 11 a.m., people will dress their pets in sports-themed costumes for a "Pet Parade."