Posted on
Wed, Nov 21, 2012 : 5:06 a.m.
A guide to Thanksgiving Eve bars and shows
By Ann Dwyer
It's one of the biggest bar nights of the year. For better or worse, it's often a multi-generational class reunion. Why not go somewhere where you don't have to be cornered by a drunk former classmate who likes to bring up that time you tripped in front of the whole cafeteria and spilled food down your new white shirt.
See a band, dance, enjoy a cocktail with friends old and new. Hopefully you won't have to hold back your friend's hair in the bathroom.
But please, please, please be careful! It's called amateur night for a reason. Watch yourself and look out for others.
Here's a sampling of what's going on:
• It's a Boylesque Party at Woodruff's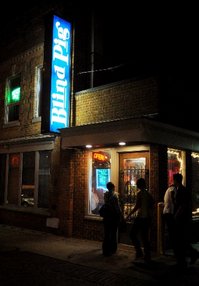 Melanie Maxwell | AnnArbor.com
•
See Shigeto with Barefoot Sneaker Slaves, Gordie and Charles Trees at the Blind Pig
• It's a Night Before Thanksgiving Day Bash! at Necto
• Test your knowledge at Music Trivia with Ryan Halsey! at Conor O'Neill's Traditional Irish Pub
• Enjoy the Rat Pad Release at Corner Brewery
• Watch the Wolverine Basketball team in the NIT Semifinals from Madison Square Gardens at Cubs AC
• It's Karaoke Wednesday Night at the Inverness Inn