Posted on
Mon, Aug 22, 2011 : 10:25 a.m.
A lackluster 'Conan' returns to the big screen
By AnnArbor.com Freelance Journalist
Conan
Now showing at Rave, Quality 16, Brighton
Review by Corey Hall of the Metro Times
Grade: C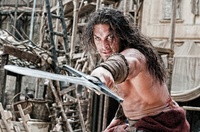 With every other bit of scrap salvaged from the '80s cultural slagheap, barbarian movies were bound to get another box-office shot at glory; in these confusing, ambiguous and contentious times, it's tempting to be seduced by a brawny hero with a blunt caveman mantra: "I live, I love, I slay. I am content." (Sounds like Rick Perry just found a campaign slogan.)
Some voice-of-God narration establishes the backstory about a missing all-powerful mask of arcane power, and Khalar Zym (Stephen Lang) the scheming warlord bound to conquer the ancient realm of Hyboria with it. If only there were someone to oppose him!
Read the full review here